The One New Year's Resolution You Probably Forgot to Make
Contracts 101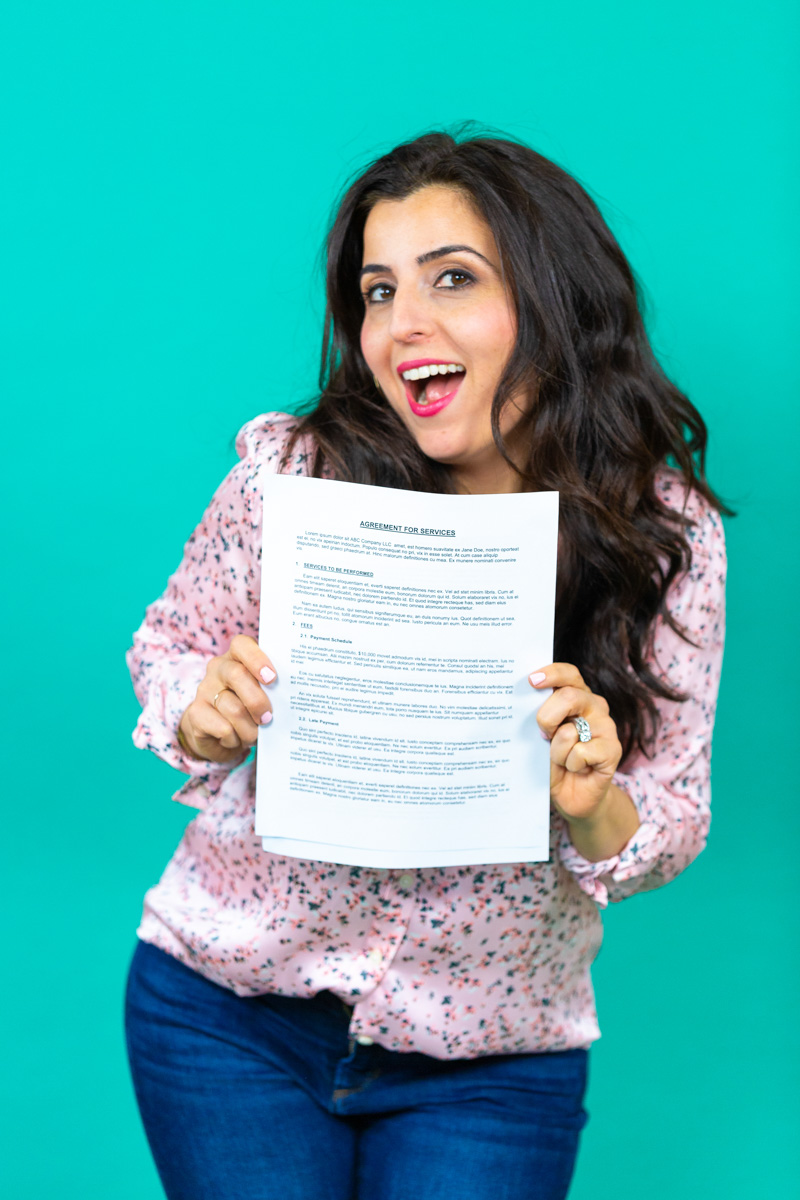 What have you resolved to do this new year?
Workout more?
Wake up earlier?
Attend more conferences?
Well, if you're a business owner, I'd like to suggest another one to add to the list – updating your contracts.
Before you proclaim: I'd rather run 25 miles every day for the next 365 days than try to update my contract…. I promise that this will be less painful than you think.
In fact, I'm breaking it down into three easy steps:
Step 1: Reflect
Your contract should reflect the policies and procedures for your business. And the policies and procedures for your business should be informed by (1) the kind of business you want to run and (2) the experiences you've had (good or bad) with your clients.
Take some time to reflect on those two points:
What kind of business do you (not your friend or that stranger you follow over on Instagram) want?  
Are there any past experiences you have had with clients that you want to avoid? Any that you want to see happening more often?
Write this all down or send a voice memo to yourself.
Here's an example: Perhaps you're a graphic designer and you love the creative aspect of your work. You want to work with clients who give you free reign to get super creative rather than nitpick over every last detail.  
You sit down, perhaps with a latte in hand, to think a bit about last year's clientele: the ones you loved to work with and the ones you regret signing on. You realize that one thing that proves to be a time and energy drain for you is the relentless back/forth that happens when it comes to revision requests. You take a look at your contract and you realize that it says nothing about how revisions will be handled: nothing about the number of revisions included, what constitutes a revision, or what happens when a client requests more revisions than you think is reasonable for those projects.
Step 2: Resolve
Once you've reflected on what things you'd like to change or have more of in your business, it's time to create new policies and procedures. Jot those down now.
Using the example above, let's say you believe that three rounds of revisions is reasonable for the types of projects you're working on and the amount you're charging. Anything above that takes significantly more of your time than what you've allotted for the project. Any revision requests beyond the three will be billed at your hourly rate.
Step 3:  Revise
The moment of truth: take these policies and procedures and address them in your contracts.
Review your existing contract and give it a good read through. What conditions still apply for you? What needs to be revised to reflect your new policies and procedures?
Roll up your sleeves and get to it.
If making revisions to your contracts feels intimidating or you'd much rather spend that time working on your other new year's resolutions, then work with a lawyer to make those edits for you. Or check out one of the done-for-you templates available over here.
Your Legal BFF contract templates include step-by-step explanations (in Plain English - no legal mumbo jumbo here) and additional trainings walking you through how to customize each clause of your contract with confidence.