Your Legal BFF is your go-to legal bestie for easy-to-understand and industry-specific contract templates that help you confidently start, grow and protect your business baby.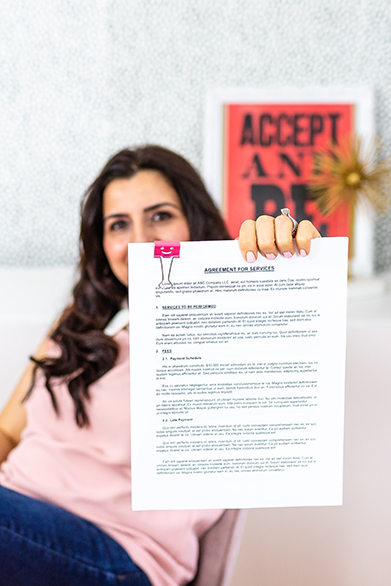 I just purchased the event planner contract ...and I LOVED how painless it was! My husband is also a lawyer and he was super impressed with the contract!
Molly, Event Planner
I've been in business for a long time--too long to not have official, legal contracts. It was always on my list to do, but I just never took the time or made the investment to make it happen. Then a dreamy client asked for some changes to the project agreements I sent her, and I knew it was time to get official. I want to protect myself and my business, but even more so I want to make sure that my clients feel comfortable with the information and access they're giving me to their businesses.
Abby, Writer/Marketing Consultant
The template has given me the confidence to book and deliver services knowing that I have properly CYA . I recently booked a client  ...  I don't think that I would have booked her with my previous contract.
Tiffany, Wedding Planner
I couldn't ask for a better customer experience. I went from anxious to relieved in a matter of hours!
Allison, Consultant
I purchased one of the legal bundles last week when I heard I won a bid and wanted to move quickly. Today, I got the redlines from my customer's legal department. They had maybe three edits and one was a missing period. In my day/full time jobs, I deal with vendors and the items I submit to legal get a lot more than three redlines. I'm new in business and was hesitant to spend the money but knew enough to get over that mindset.
Lig, Event Planner
If you don't know what you don't know...