Your Legal BFF is your go-to legal bestie for easy-to-understand and industry-specific contract templates that help you confidently start, grow and protect your business baby.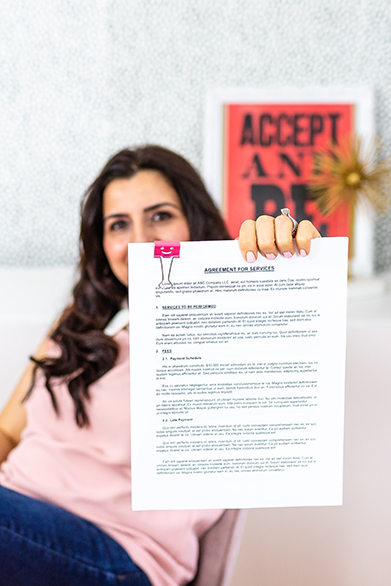 Just received the signed contract back from my new client! It is a big, open-ended partnership & I feel so much better knowing that I've covered my you-know-what with them. Thank you a million times over for such an easy document to use.
Karen, Marketing Consultant
When I first started my business, I was using contracts I'd created in a piecemeal fashion from other contracts I'd found online. I wasn't sure if they were thorough, reasonable for all parties, or even legally binding. Transitioning to the use of [Your Legal BFF's] contract templates gave me the confidence that I was presenting myself in a much more professional manner, and the security in knowing that my contracts were fair, equitable, and legally sound.
Nikeva, Wedding Planner
As a new creative, it is tempting to want to spend money on a new website, branding, business cards, etc., but your biggest investment should be in making sure that your business is covered. If you can't afford to sit down with an attorney to draft up a contract, this template is the next best thing!
Tiffany, Wedding Planner
The template has given me the confidence to book and deliver services knowing that I have properly CYA . I recently booked a client  ...  I don't think that I would have booked her with my previous contract.
Tiffany, Wedding Planner
I purchased the Independent Contractor Bundle and it saved me so much time and made me feel at ease. The instructions that came along with the contracts made them very easy to fill out on my own and feel confident in what I was about to send over to the contractor. I cannot recommend them enough!
Amy, CPA
If you don't know what you don't know...