Your Legal BFF is your go-to legal bestie for easy-to-understand and industry-specific contract templates that help you confidently start, grow and protect your business baby.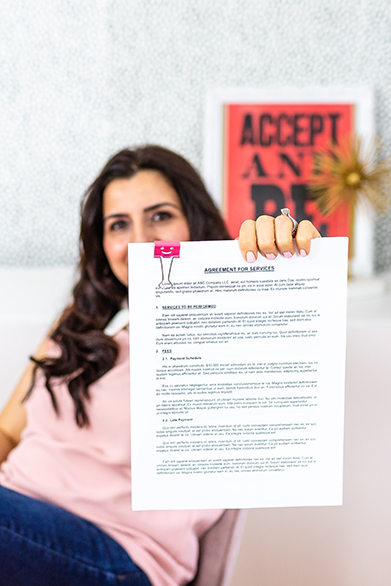 Loved the explainer included--this is what I wanted. No one has been able to explain in plain English what various terms mean.
Anonymous
I can't thank you enough.  A V.P. of Morgan Stanley has just signed my contract for wedding planning (for his daughter). He said that I need to congratulate my lawyer for writing such a well-balanced contract (which he signed without question).....My new contract is making it easier than ever to secure contracts which means more work than ever!!
Nikki, Wedding Planner
It was time for me to enlist more help to keep up with #allthethings in my business- I wanted to be sure to also protect my clients while I worked on scaling, so needed to get legal docs in place to do that.  There is SO much security in having a legal agreement- plus it's just the right thing to do. Nothing says I'm a legit business quite like an attorney drafted document.
Serena, Social Media Manager
I couldn't ask for a better customer experience. I went from anxious to relieved in a matter of hours!
Allison, Consultant
I saw many coaching agreements by other coaches, but I wanted something with the proper legal wording that would give me enough confidence to protect both me and my clients. [I]t gave me the confidence I needed to proceed with my business.
Tracy, Coach
If you don't know what you don't know...