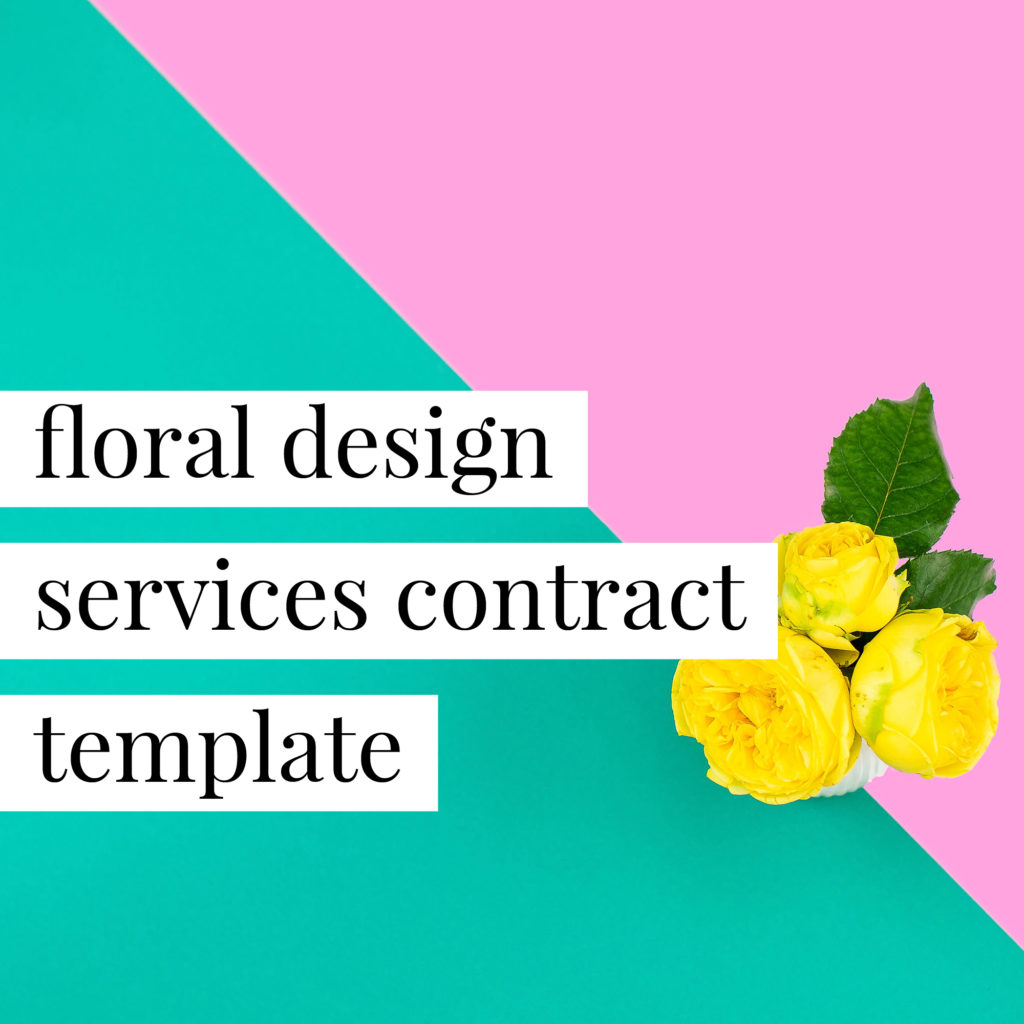 Floral Design Services Contract Template
$275
Protect your floral design business with this customizable contract template. It's ideal for florists, floral designers and stylists who provide floral arrangements to clients for a variety of events.
This contract template addresses a variety of important issues florists and floral designers need to have in their client contracts for floral design services, including:
The floral arrangements and/or rentals that will be provided to client
The delivery schedule
How the floral designer will be compensated
What happens if the event is rescheduled
What happens if the event is cancelled
What happens if the client requests additional services
What happens if the client or floral designer needs to be make changes to the order
What happens if loaned items are damaged or lost
Permission to use photos of the event/wedding for the floral designer's marketing purposes
How the parties can terminate the contract
What happens if there is a dispute between the parties
And much more
Here's how it works:
01. organize
The contract drafting process is also a business planning tool. This video and accompanying worksheet will help organize your thoughts about how you want to run YOUR (not someone else's) unique business. A little time spent here will make completing the template itself easy breezy.
02. customize
This is where all the magic happens! Step-by-step video explanations (in Plain English - no legal mumbo jumbo here) will walk you through how to customize each clause of your BRAND NEW contract with confidence. So next time a client has questions about your contract, you'll impress them with your legal know-how. Then, revise your contract against the provided checklist to double check that you've crossed all your T's and dotted all your I's. Plus, the extra video trainings will demystify the questions popping up in your mind about whether to send proposals or contracts and how to make contract changes after it's already been signed (#lesigh, it happens to the best of us).
03. systemize
Want to save time, avoid costly contract errors, and book clients a whole lot faster? Then you've got to have a system in place. These video trainings will show you how to use some of our favorite contract signing softwares (even if you've never used one before) to make getting signed contracts back from your clients a whole lot easier.
Buy Now
I bought both the marketing consultant contract and independent contractors contract! Super easy to understand and tweak for my business needs!
Ellen, Marketing Consultant
I decided to invest in [Your Legal BFFs] contracts because I knew that my copy and paste from the internet contracts were not up to snuff. I always had this pit in my stomach every time I booked a new client, hoping that they went call me out on my sub-par contracts. I didn't want to find myself in a bad legal situation so something had to change.
Tiffany, Wedding Planner
As a new creative, it is tempting to want to spend money on a new website, branding, business cards, etc., but your biggest investment should be in making sure that your business is covered. If you can't afford to sit down with an attorney to draft up a contract, this template is the next best thing!
Tiffany, Wedding Planner
I always feel like I'm in good hands when I'm using Your Legal BFF's products. I feel protected and informed, just as any smart business woman should be!
Cynthia, Wedding Planner
I saw many coaching agreements by other coaches, but I wanted something with the proper legal wording that would give me enough confidence to protect both me and my clients. [I]t gave me the confidence I needed to proceed with my business.
Tracy, Coach