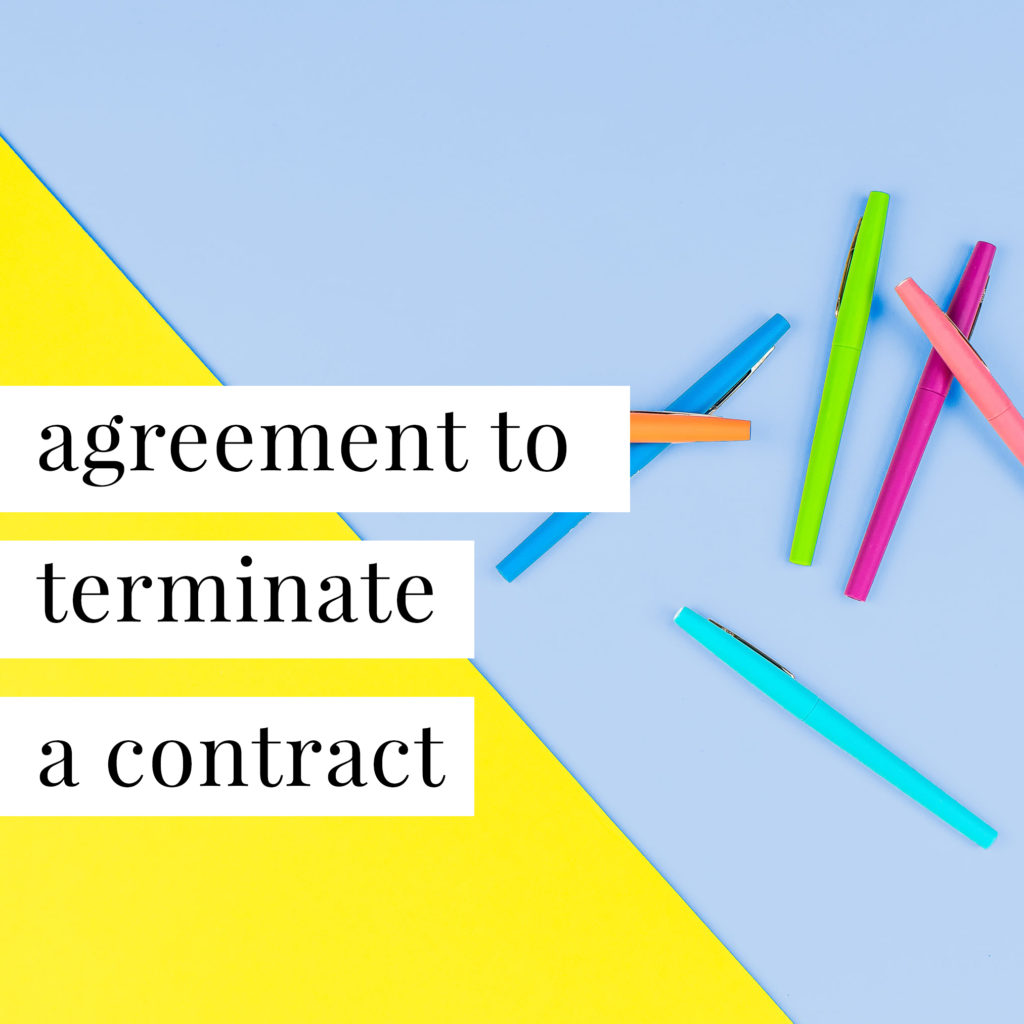 Agreement to Terminate Contract
$149
It's time to say "bye, bye, bye" to a client or another party to your contract. Should you have something in writing? Yes!  This template for an Agreement to Terminate Contract can be used by parties to a contract when they have agreed to terminate their contract.
Protect yourself before you end a contractual relationship by having the parties sign this Agreement to Terminate a Contract.
This contract template addresses a variety of important issues that should be addressed before terminating a contract.
I just wanted to take a moment to thank you. I have a huge wedding I just booked, and went ahead and invested because I knew I needed to up my contract game. Turns out, Mother AND Father of the bride are high powered lawyers, and definitely scrutinized everything in a 45 min phone call. I was freaking out, but they said multiple times " You have a good lawyer" and "The contract is very thorough.
Cassandra, Event Planner
I have been able to tweak the contract to accommodate the needs of each shoot and client. Overall, I think clients take me more seriously when I send a detailed contract over. It shows that I value my business, but I also value my clients in putting these in place.
Kylie, Photographer
It was time for me to enlist more help to keep up with #allthethings in my business- I wanted to be sure to also protect my clients while I worked on scaling, so needed to get legal docs in place to do that.  There is SO much security in having a legal agreement- plus it's just the right thing to do. Nothing says I'm a legit business quite like an attorney drafted document.
Serena, Social Media Manager
I decided to invest in [Your Legal BFFs] contracts because I knew that my copy and paste from the internet contracts were not up to snuff. I always had this pit in my stomach every time I booked a new client, hoping that they went call me out on my sub-par contracts. I didn't want to find myself in a bad legal situation so something had to change.
Tiffany, Wedding Planner
I've been in business for a long time--too long to not have official, legal contracts. It was always on my list to do, but I just never took the time or made the investment to make it happen. Then a dreamy client asked for some changes to the project agreements I sent her, and I knew it was time to get official. I want to protect myself and my business, but even more so I want to make sure that my clients feel comfortable with the information and access they're giving me to their businesses.
Abby, Writer/Marketing Consultant