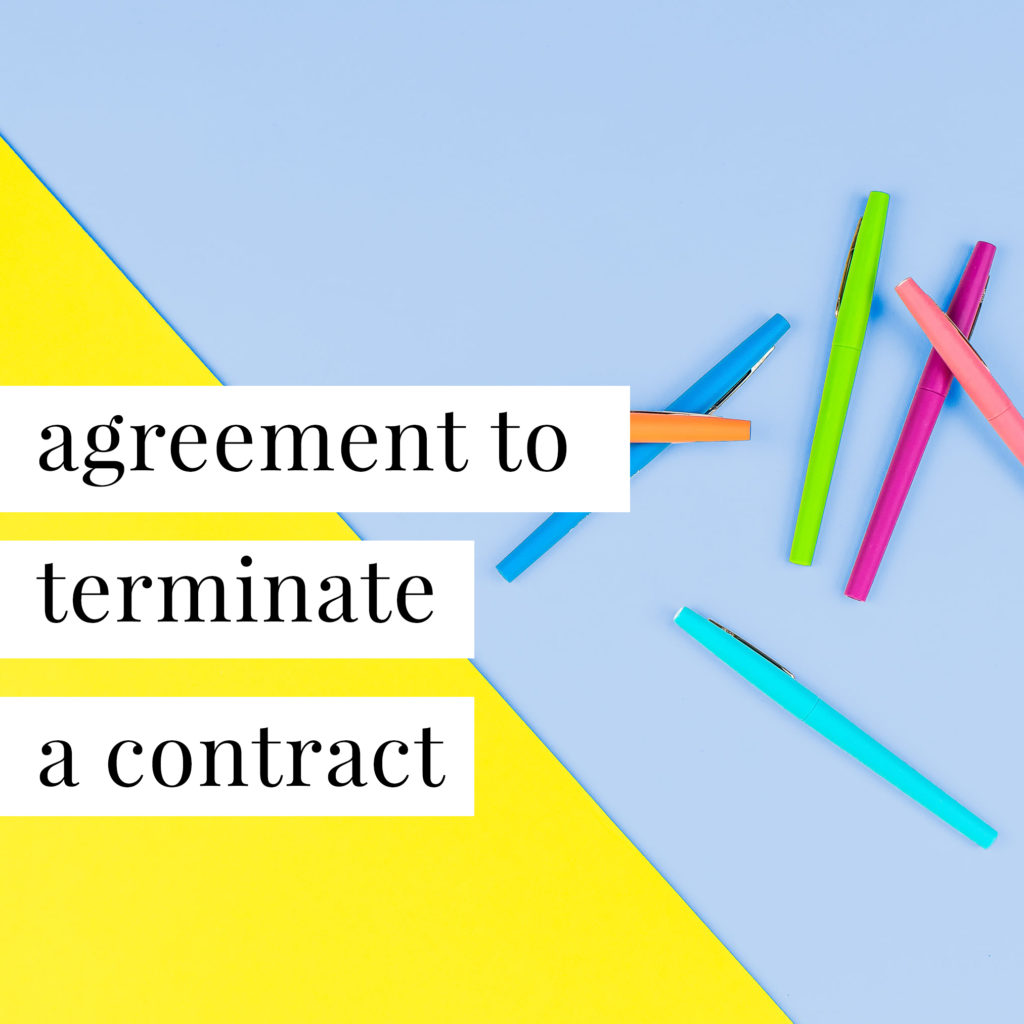 Agreement to Terminate Contract
$149
It's time to say "bye, bye, bye" to a client or another party to your contract. Should you have something in writing? Yes!  This template for an Agreement to Terminate Contract can be used by parties to a contract when they have agreed to terminate their contract.
The Details
What's Inside
Oh so great for
Protect yourself before you end a contractual relationship by having the parties sign this Agreement to Terminate a Contract.
This contract template addresses a variety of important issues that should be addressed before terminating a contract.
It was time for me to enlist more help to keep up with #allthethings in my business- I wanted to be sure to also protect my clients while I worked on scaling, so needed to get legal docs in place to do that.  There is SO much security in having a legal agreement- plus it's just the right thing to do. Nothing says I'm a legit business quite like an attorney drafted document.
Serena, Social Media Manager
I wanted to shout out a big THANK YOU for the webinar today on contracts! Way to kick my butt in to gear. I know I've been putting it on the back burner and stressing about finances (business related and personal life) but you made it a no-brainer with your package! I feel like I'm going to be well taken care of, and in turn can take care of my business and my clients as a result.
Sarah, Event Planner
I wanted to start really taking myself and my design business seriously, and having a well-drafted contract is one way to go about doing that, but I had no idea where to even start. That is, until I discovered Annette and her amazing (and amazingly affordable) contracts! Now I have an agreement for design services contract that leaves me feeling confident and protected, and it's such a relief! Not only that, but every piece of the contract is explained in detail, so I know the ins and outs of what I'm sending to clients. No more anxiety!
Melissa, Designer
I just purchased the event planner contract ...and I LOVED how painless it was! My husband is also a lawyer and he was super impressed with the contract!
Molly, Event Planner
When I first started my business, I was using contracts I'd created in a piecemeal fashion from other contracts I'd found online. I wasn't sure if they were thorough, reasonable for all parties, or even legally binding. Transitioning to the use of [Your Legal BFF's] contract templates gave me the confidence that I was presenting myself in a much more professional manner, and the security in knowing that the my contracts were fair, equitable, and legally sound.
Nikeva, Wedding Planner