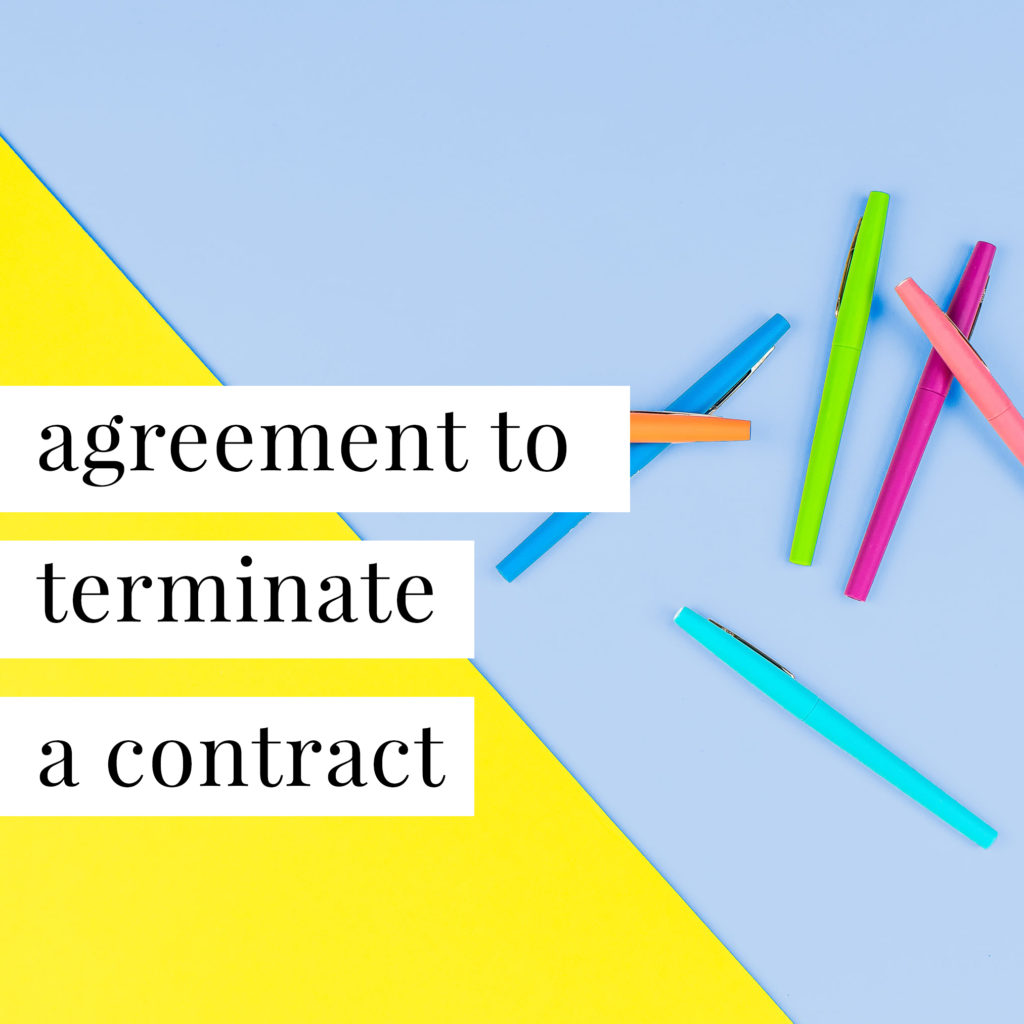 Agreement to Terminate Contract
$149
It's time to say "bye, bye, bye" to a client or another party to your contract. Should you have something in writing? Yes!  This template for an Agreement to Terminate Contract can be used by parties to a contract when they have agreed to terminate their contract.
Protect yourself before you end a contractual relationship by having the parties sign this Agreement to Terminate a Contract.
This contract template addresses a variety of important issues that should be addressed before terminating a contract.
We absolutely love how easy it is to use [these] contracts. They have  every contract we need so it's the first place we check before thinking about hiring a lawyer.  They also has a ton of great useful information which we find to be super helpful as entrepreneurs.
Jessica, Event Planner
I just wanted to take a moment to thank you. I have a huge wedding I just booked, and went ahead and invested because I knew I needed to up my contract game. Turns out, Mother AND Father of the bride are high powered lawyers, and definitely scrutinized everything in a 45 min phone call. I was freaking out, but they said multiple times " You have a good lawyer" and "The contract is very thorough.
Cassandra, Event Planner
I wanted to shout out a big THANK YOU for the webinar today on contracts! Way to kick my butt in to gear. I know I've been putting it on the back burner and stressing about finances (business related and personal life) but you made it a no-brainer with your package! I feel like I'm going to be well taken care of, and in turn can take care of my business and my clients as a result.
Sarah, Event Planner
I always feel like I'm in good hands when I'm using Your Legal BFF's products. I feel protected and informed, just as any smart business woman should be!
Cynthia, Wedding Planner
I am in the processing of growing my team, taking on more clients with bigger and more involved weddings....I'm taking the necessary steps to ensure that my team and I are covered, even if it means investing more in Your Legal BFFs templates ahead of time. Better safe than sorry!
Katherine, Wedding Planner