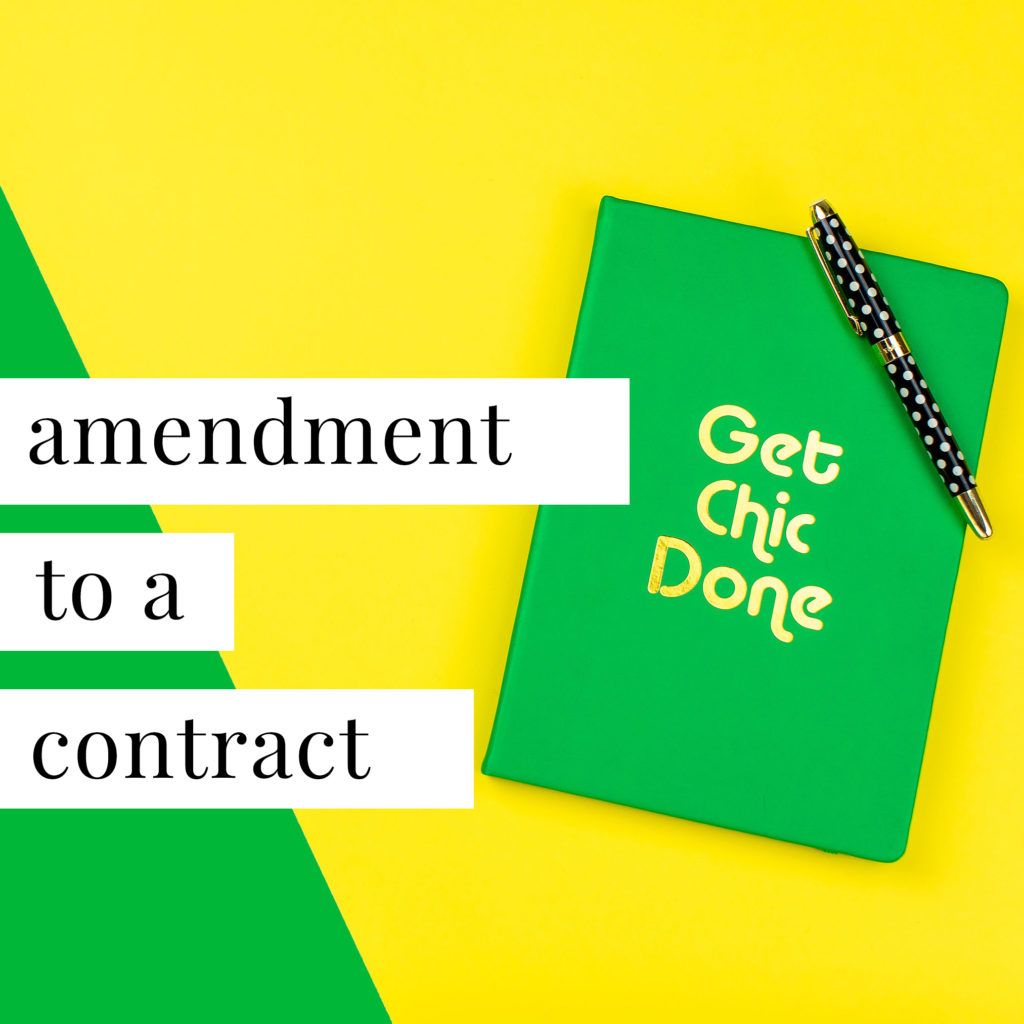 Amendment to Contract
$75
Sometimes after you've signed a contract, you or your client wants to make a change to the terms of the contract.  How do you go about doing that?  The answer is – with amendments.
You've signed a contract and now, either you or the other party wants to change a term of the contract. Maybe it's the event date, the fees, the delivery schedule. Whatever the change might be, you'll need an amendment to the contract to document that revised term.
I purchased one of the legal bundles last week when I heard I won a bid and wanted to move quickly. Today, I got the redlines from my customer's legal department. They had maybe three edits and one was a missing period. In my day/full time jobs, I deal with vendors and the items I submit to legal get a lot more than three redlines. I'm new in business and was hesitant to spend the money but knew enough to get over that mindset.
Lig, Event Planner
It was time for me to enlist more help to keep up with #allthethings in my business- I wanted to be sure to also protect my clients while I worked on scaling, so needed to get legal docs in place to do that.  There is SO much security in having a legal agreement- plus it's just the right thing to do. Nothing says I'm a legit business quite like an attorney drafted document.
Serena, Social Media Manager
When I first started my business, I was using contracts I'd created in a piecemeal fashion from other contracts I'd found online. I wasn't sure if they were thorough, reasonable for all parties, or even legally binding. Transitioning to the use of [Your Legal BFF's] contract templates gave me the confidence that I was presenting myself in a much more professional manner, and the security in knowing that my contracts were fair, equitable, and legally sound.
Nikeva, Wedding Planner
I just purchased the event planner contract ...and I LOVED how painless it was! My husband is also a lawyer and he was super impressed with the contract!
Molly, Event Planner
I just wanted to take a moment to thank you. I have a huge wedding I just booked, and went ahead and invested because I knew I needed to up my contract game. Turns out, Mother AND Father of the bride are high powered lawyers, and definitely scrutinized everything in a 45 min phone call. I was freaking out, but they said multiple times " You have a good lawyer" and "The contract is very thorough.
Cassandra, Event Planner