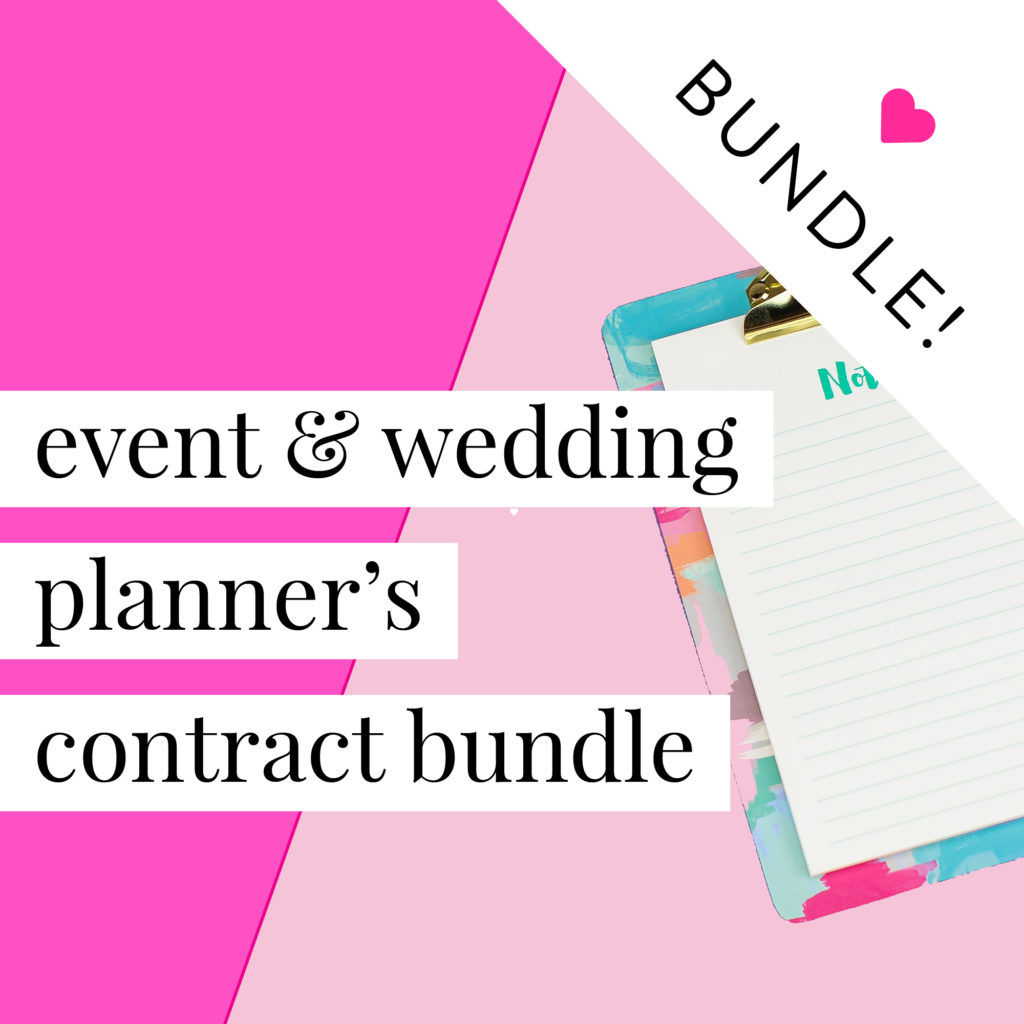 Event and Wedding Planner's Contract Bundle
$845
Bundle and save $151!
With this bundle, you'll get the Event or Wedding Planning Services Contract Template, Independent Contractor Contract Template, Website Terms of Service and Privacy Policy, and Photo, Audio or Video Release at a discounted price.
01 | EVENT OR WEDDING PLANNING SERVICES CONTRACT TEMPLATE
Don't plan another event or wedding for your clients without this customizable contract template for event and wedding planners. This contract template addresses a variety of important issues event and wedding planners need to have in their client contracts for event and wedding planning services, including:
The services the planner will perform for the clients
How the planner will be compensated for services (whether the planner charges a flat fee or a percentage of the budget)
What expenses need to be reimbursed by the client
What happens if the client requests additional services
What happens if the event is rescheduled
What happens if the event is cancelled
What happens if the planner is unable to perform services on the event/wedding date
What happens if the event/wedding date is unknown at the time of hiring the planner
What the planner expects from clients
Permission to use photos of the event/wedding for the planner's marketing purposes
Limiting the liability of the planner and the client
The planner's responsibility as it relates to other vendors
How the parties can terminate the contract
What happens if there is a dispute between the parties
And much more
This contract works well for event stylists too!
02 | INDEPENDENT CONTRACTOR CONTRACT TEMPLATE
If you hire independent contractors (as opposed to employees) to provide services in your business, then this customizable contract template is for you. This contract template addresses important issues that need to be included in contracts with independent contractors, including:
The services the independent contractor will perform for the client
How much the independent contractor will be compensated for their services
What expenses will be reimbursed by the client
Who owns the copyright to the work product created by the independent contractor
How confidential information will be treated
How the parties can terminate the contract
What happens if there is a dispute between the parties
And much more
03 | WEBSITE TERMS OF SERVICE / PRIVACY POLICY
If you collect information from your website visitors (think, email opt ins, credit card information, Facebook pixels, Google Analytics, etc.), you need to have a privacy policy on your website indicating what information is being collected from visitors and how it's being used.
Websites should also have a Terms of Service that outlines the terms and conditions under which a website visitor can use your website.
Updated for GDPR Compliance
04 | PHOTO, AUDIO OR VIDEO RELEASE
Photographers, videographers, event planners, or other individuals who intend to photograph or record (audio or video) of an individual and use that material for commercial and business purposes will need a signed release. This release covers photography, audio recordings and video recordings and can be used for both adults and minors.
I purchased one of the legal bundles last week when I heard I won a bid and wanted to move quickly. Today, I got the redlines from my customer's legal department. They had maybe three edits and one was a missing period. In my day/full time jobs, I deal with vendors and the items I submit to legal get a lot more than three redlines. I'm new in business and was hesitant to spend the money but knew enough to get over that mindset.
Lig, Event Planner
I wanted to shout out a big THANK YOU for the webinar today on contracts! Way to kick my butt in to gear. I know I've been putting it on the back burner and stressing about finances (business related and personal life) but you made it a no-brainer with your package! I feel like I'm going to be well taken care of, and in turn can take care of my business and my clients as a result.
Sarah, Event Planner
When I first started my business, I was using contracts I'd created in a piecemeal fashion from other contracts I'd found online. I wasn't sure if they were thorough, reasonable for all parties, or even legally binding. Transitioning to the use of [Your Legal BFF's] contract templates gave me the confidence that I was presenting myself in a much more professional manner, and the security in knowing that my contracts were fair, equitable, and legally sound.
Nikeva, Wedding Planner
The template had everything I needed when I started (and as I've grown!) and they were a breeze to customize. The templates include tons of notes so you understand why each section is important and where you might want to consider your options. They take the fear out of contracts and makes it easy to cover yourself and your clients so you can get back to focusing on making a great product and providing amazing customer service.
Chelsea, Productivity Expert
I did not want to pay an attorney hundreds/thousands of dollars to prepare a contract for me. I was happy that the template was so easy to use and that I was able to create a contract quickly. I have made minor modifications, but that agreement has already been used 16 times in the past 7 months!
Lynn, Wedding Planner