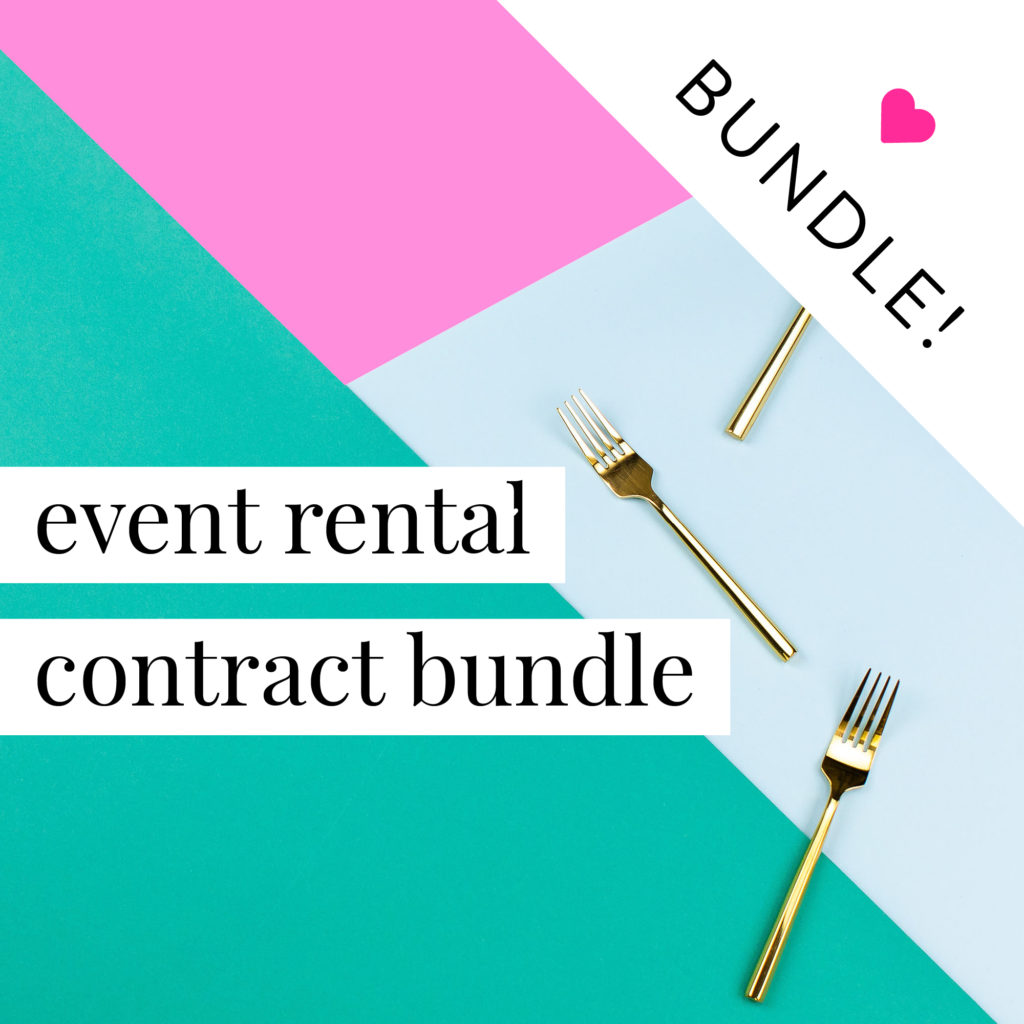 Event Rental Contract Bundle
$799
Bundle and save $100!
With this bundle, you'll get the Event Rentals Contract Template, Independent Contractor Contract Template, and Website Terms of Service at a discounted price.
01 | EVENT RENTALS CONTRACT TEMPLATE
Don't loan out another item from your precious collection without this customizable contract template. This contract template is ideal for rental companies that rent out items such as props, furniture, tabletop items, and decorative accessories for use at events. It addresses a variety of important issues event rental companies need to have in their client contracts, including:
A description of items to be rented
The rental fees to be charged
The damage deposit to be collected
What happens if the event is rescheduled
What happens if the event is cancelled
What happens if the client requests additional rental items
What happens if loaned items are damaged or lost
Permission to use photos of the event/wedding for the event rental company's marketing purposes
Limitation the liability of the parties
How the parties can terminate the contract
What happens if there is a dispute between the parties
And much more
02 | INDEPENDENT CONTRACTOR CONTRACT TEMPLATE
If you hire independent contractors (as opposed to employees) to provide services in your business, then this customizable contract template is for you. This contract template addresses important issues that need to be included in contracts with independent contractors, including:
The services the independent contractor will perform for the client
How much the independent contractor will be compensated for their services
What expenses will be reimbursed by the client
Who owns the copyright to the work product created by the independent contractor
How confidential information will be treated
How the parties can terminate the contract
What happens if there is a dispute between the parties
And much more
03 | WEBSITE TERMS OF SERVICE / PRIVACY POLICY
If you collect information from your website visitors (think, email opt ins, credit card information, Facebook pixels, Google Analytics, etc.), you need to have a privacy policy on your website indicating what information is being collected from visitors and how it's being used.
Websites should also have a Terms of Service that outlines the terms and conditions under which a website visitor can use your website.
UPDATED FOR GDPR COMPLIANCE
I can't thank you enough.  A V.P. of Morgan Stanley has just signed my contract for wedding planning (for his daughter). He said that I need to congratulate my lawyer for writing such a well-balanced contract (which he signed without question).....My new contract is making it easier than ever to secure contracts which means more work than ever!!
Nikki, Wedding Planner
The template has given me the confidence to book and deliver services knowing that I have properly CYA . I recently booked a client  ...  I don't think that I would have booked her with my previous contract.
Tiffany, Wedding Planner
When I first started my business, I was using contracts I'd created in a piecemeal fashion from other contracts I'd found online. I wasn't sure if they were thorough, reasonable for all parties, or even legally binding. Transitioning to the use of [Your Legal BFF's] contract templates gave me the confidence that I was presenting myself in a much more professional manner, and the security in knowing that my contracts were fair, equitable, and legally sound.
Nikeva, Wedding Planner
The template had everything I needed when I started (and as I've grown!) and they were a breeze to customize. The templates include tons of notes so you understand why each section is important and where you might want to consider your options. They take the fear out of contracts and makes it easy to cover yourself and your clients so you can get back to focusing on making a great product and providing amazing customer service.
Chelsea, Productivity Expert
I started my business last year and have taken a handful of clients through word of mouth. I've been fortunate enough not to have any issues, but after completing my first large scale event under my company name, I knew it was time to 'go legit' and make sure my clients and I are both legally covered. It gives me peace of mind to know that I can clearly communicate responsibilities and liabilities to my clients.
Jessica, Event Planner