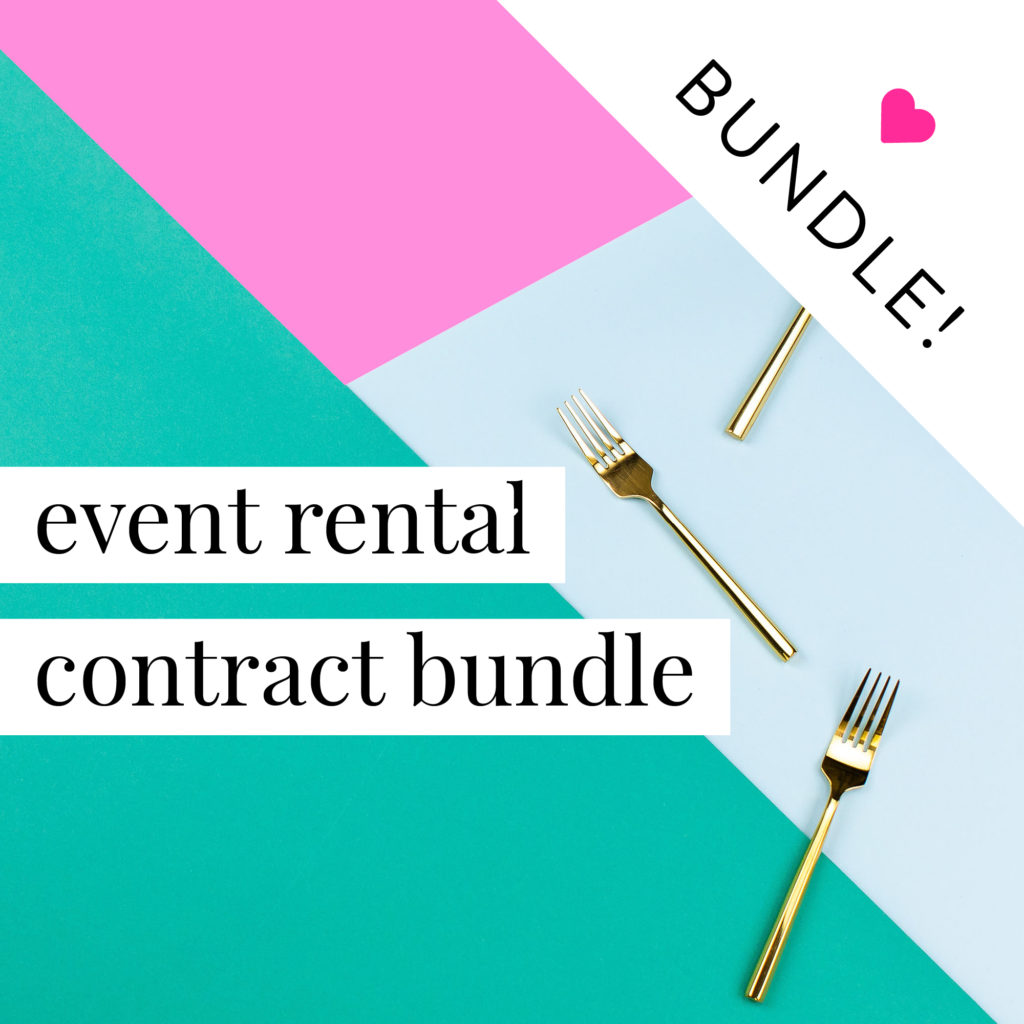 Event Rental Contract Bundle
$799
Bundle and save $100!
With this bundle, you'll get the Event Rentals Contract Template, Independent Contractor Contract Template, and Website Terms of Service at a discounted price.
01 | EVENT RENTALS CONTRACT TEMPLATE
Don't loan out another item from your precious collection without this customizable contract template. This contract template is ideal for rental companies that rent out items such as props, furniture, tabletop items, and decorative accessories for use at events. It addresses a variety of important issues event rental companies need to have in their client contracts, including:
A description of items to be rented
The rental fees to be charged
The damage deposit to be collected
What happens if the event is rescheduled
What happens if the event is cancelled
What happens if the client requests additional rental items
What happens if loaned items are damaged or lost
Permission to use photos of the event/wedding for the event rental company's marketing purposes
Limitation the liability of the parties
How the parties can terminate the contract
What happens if there is a dispute between the parties
And much more
02 | INDEPENDENT CONTRACTOR CONTRACT TEMPLATE
If you hire independent contractors (as opposed to employees) to provide services in your business, then this customizable contract template is for you. This contract template addresses important issues that need to be included in contracts with independent contractors, including:
The services the independent contractor will perform for the client
How much the independent contractor will be compensated for their services
What expenses will be reimbursed by the client
Who owns the copyright to the work product created by the independent contractor
How confidential information will be treated
How the parties can terminate the contract
What happens if there is a dispute between the parties
And much more
03 | WEBSITE TERMS OF SERVICE / PRIVACY POLICY
If you collect information from your website visitors (think, email opt ins, credit card information, Facebook pixels, Google Analytics, etc.), you need to have a privacy policy on your website indicating what information is being collected from visitors and how it's being used.
Websites should also have a Terms of Service that outlines the terms and conditions under which a website visitor can use your website.
UPDATED FOR GDPR COMPLIANCE
I did not want to pay an attorney hundreds/thousands of dollars to prepare a contract for me. I was happy that the template was so easy to use and that I was able to create a contract quickly. I have made minor modifications, but that agreement has already been used 16 times in the past 7 months!
Lynn, Wedding Planner
I decided to invest in [Your Legal BFFs] contracts because I knew that my copy and paste from the internet contracts were not up to snuff. I always had this pit in my stomach every time I booked a new client, hoping that they went call me out on my sub-par contracts. I didn't want to find myself in a bad legal situation so something had to change.
Tiffany, Wedding Planner
I purchased the Independent Contractor Bundle and it saved me so much time and made me feel at ease. The instructions that came along with the contracts made them very easy to fill out on my own and feel confident in what I was about to send over to the contractor. I cannot recommend them enough!
Amy, CPA
I loved that your contract was specific to my industry, so I felt much more protected than purchasing a general contract for freelancers/online business owners. As for results, I feel much more confident going to a project with clients knowing I'm legally protected and I feel like I am taken more seriously. I would say to people who are considering purchasing this contract to just go for it. It's probably the most important thing to do before working with clients.
Lauren, Graphic and Web Designer
I bought both the marketing consultant contract and independent contractors contract! Super easy to understand and tweak for my business needs!
Ellen, Marketing Consultant