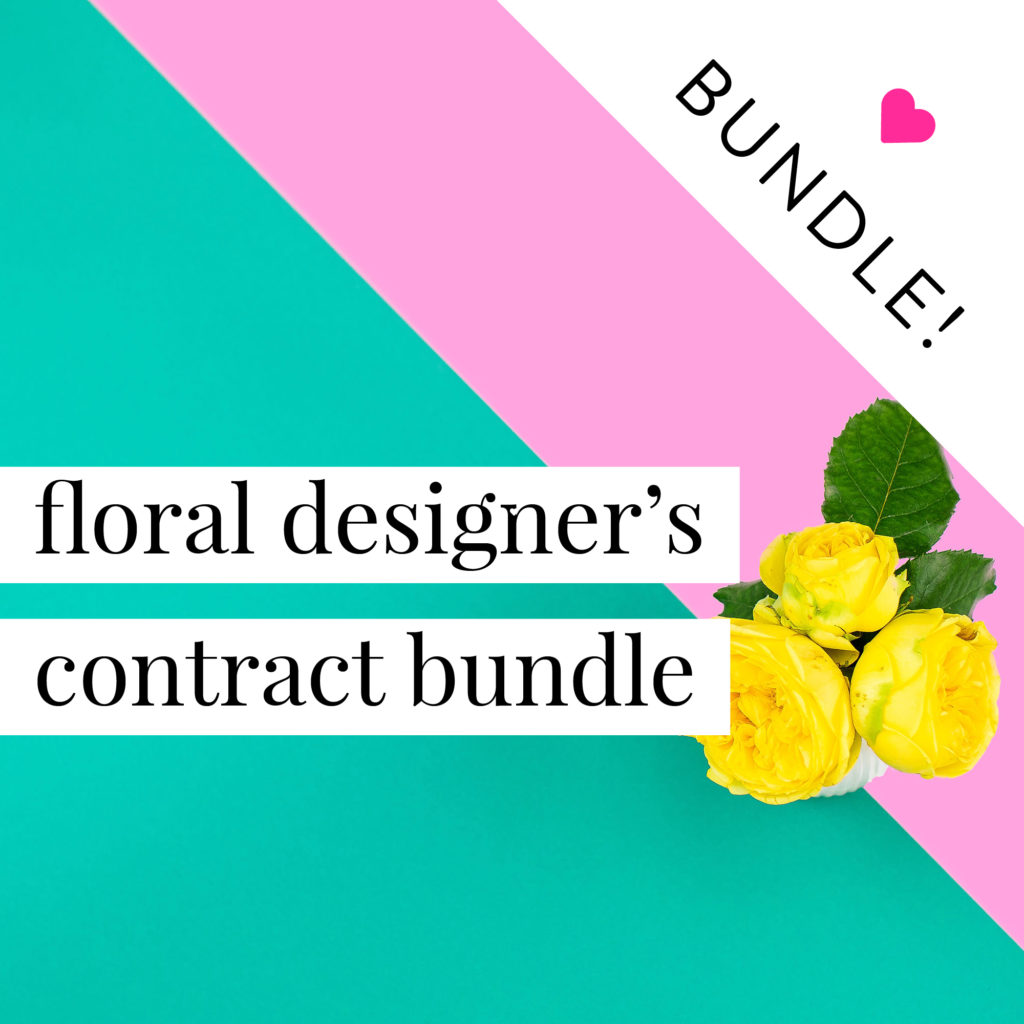 Floral Designer's Contract Bundle
$799
Bundle and save $100!
With this bundle, you'll get the Floral Design Services Contract Template, Independent Contractor Contract Template, and Website Terms of Service at a discounted price.
01 | FLORAL DESIGN SERVICES CONTRACT TEMPLATE
Make sure your floral design business is in full bloom with this customizable contract template – ideal for florists, floral designers and stylists who provide floral arrangements to clients for a variety of events. This contract template addresses a variety of important issues florists and floral designers need to have in their client contracts for floral design services, including:
The floral arrangements and/or rentals that will be provided to client
The delivery schedule
How the floral designer will be compensated
What happens if the event is rescheduled
What happens if the event is cancelled
What happens if the client requests additional services
What happens if the client or floral designer needs to be make changes to the order
What happens if loaned items are damaged or lost
Permission to use photos of the event/wedding for the floral designer's marketing purposes
How the parties can terminate the contract
What happens if there is a dispute between the parties
And much more
02 | INDEPENDENT CONTRACTOR CONTRACT TEMPLATE
If you hire independent contractors (as opposed to employees) to provide services in your business, then this customizable contract template is for you. This contract template addresses important issues that need to be included in contracts with independent contractors, including:
The services the independent contractor will perform for the client
How much the independent contractor will be compensated for their services
What expenses will be reimbursed by the client
Who owns the copyright to the work product created by the independent contractor
How confidential information will be treated
How the parties can terminate the contract
What happens if there is a dispute between the parties
And much more
03 | WEBSITE TERMS OF SERVICE / PRIVACY POLICY
If you collect information from your website visitors (think, email opt ins, credit card information, Facebook pixels, Google Analytics, etc.), you need to have a privacy policy on your website indicating what information is being collected from visitors and how it's being used.
Websites should also have a Terms of Service that outlines the terms and conditions under which a website visitor can use your website.
UPDATED FOR GDPR COMPLIANCE
I wanted to shout out a big THANK YOU for the webinar today on contracts! Way to kick my butt in to gear. I know I've been putting it on the back burner and stressing about finances (business related and personal life) but you made it a no-brainer with your package! I feel like I'm going to be well taken care of, and in turn can take care of my business and my clients as a result.
Sarah, Event Planner
I am in the processing of growing my team, taking on more clients with bigger and more involved weddings....I'm taking the necessary steps to ensure that my team and I are covered, even if it means investing more in Your Legal BFFs templates ahead of time. Better safe than sorry!
Katherine, Wedding Planner
As a new creative, it is tempting to want to spend money on a new website, branding, business cards, etc., but your biggest investment should be in making sure that your business is covered. If you can't afford to sit down with an attorney to draft up a contract, this template is the next best thing!
Tiffany, Wedding Planner
Loved the explainer included--this is what I wanted. No one has been able to explain in plain English what various terms mean.
Anonymous
I decided to invest in [Your Legal BFFs] contracts because I knew that my copy and paste from the internet contracts were not up to snuff. I always had this pit in my stomach every time I booked a new client, hoping that they went call me out on my sub-par contracts. I didn't want to find myself in a bad legal situation so something had to change.
Tiffany, Wedding Planner