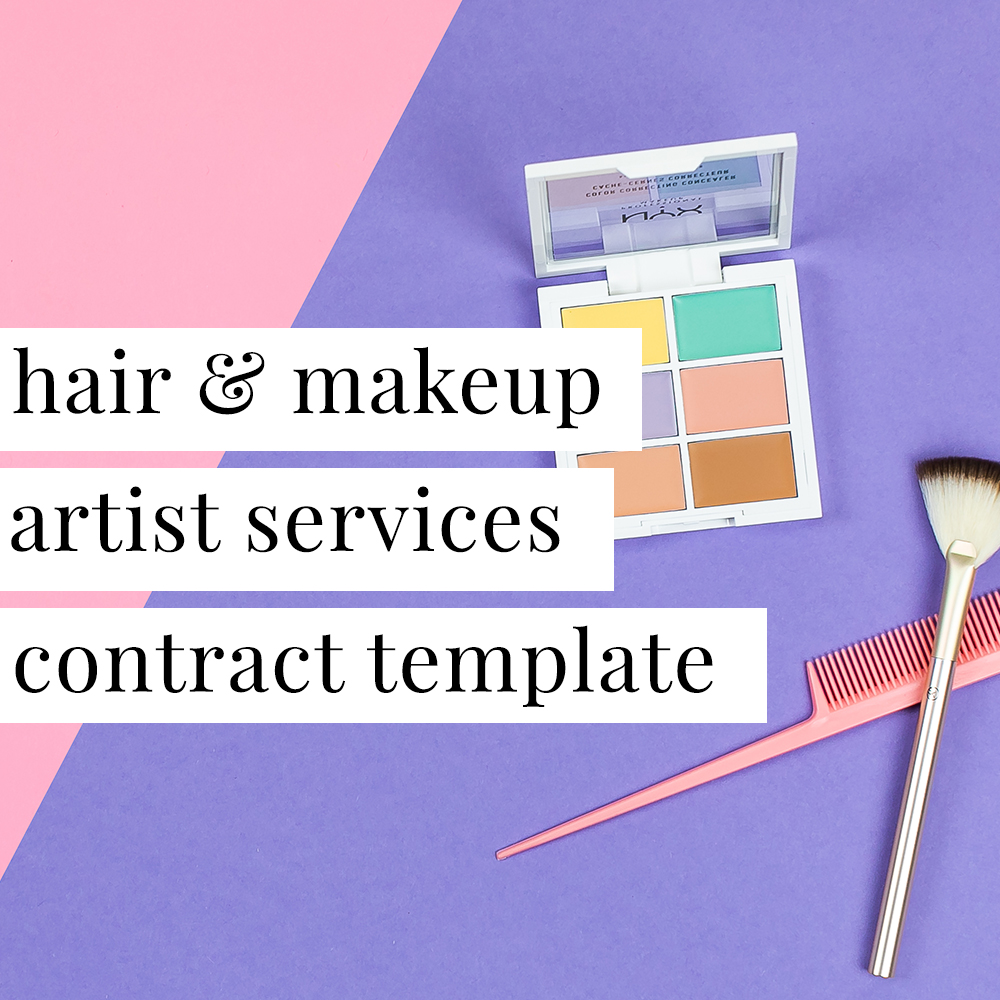 Hair and Makeup Artist Services Contract Template
$275
If you're a hair and/or makeup artist, put down your brushes and don't book your next job without this customizable contract template.
Whether you work by yourself, as part of a team, or manage a team of artists, this contract template is ideal for hair and/or makeup artists who are hired to provide professional hair and makeup services for events like weddings, photoshoots, conferences, etc.
It addresses a variety of important issues hair/makeup artists needs to have in client contracts, including:
The services the artist will perform for the client
How the artist will be compensated for services and any additional fees that may be charged to the client
What happens if the event gets rescheduled
The artist's expectations regarding a safe and healthy working environment
What happens if the artist is unable to personally perform services on the event date
What happens if the event date is unknown at the time of hiring the artist
Permission to use photos of the event for the artist's marketing purposes
Limiting the liability of the artist and the client
How the parties can terminate the contract
What happens if there is a dispute between the parties
And much more
I bought both the marketing consultant contract and independent contractors contract! Super easy to understand and tweak for my business needs!
Ellen, Marketing Consultant
I did not want to pay an attorney hundreds/thousands of dollars to prepare a contract for me. I was happy that the template was so easy to use and that I was able to create a contract quickly. I have made minor modifications, but that agreement has already been used 16 times in the past 7 months!
Lynn, Wedding Planner
I purchased the Independent Contractor Bundle and it saved me so much time and made me feel at ease. The instructions that came along with the contracts made them very easy to fill out on my own and feel confident in what I was about to send over to the contractor. I cannot recommend them enough!
Amy, CPA
When I first started my business, I was using contracts I'd created in a piecemeal fashion from other contracts I'd found online. I wasn't sure if they were thorough, reasonable for all parties, or even legally binding. Transitioning to the use of [Your Legal BFF's] contract templates gave me the confidence that I was presenting myself in a much more professional manner, and the security in knowing that my contracts were fair, equitable, and legally sound.
Nikeva, Wedding Planner
I am in the processing of growing my team, taking on more clients with bigger and more involved weddings....I'm taking the necessary steps to ensure that my team and I are covered, even if it means investing more in Your Legal BFFs templates ahead of time. Better safe than sorry!
Katherine, Wedding Planner