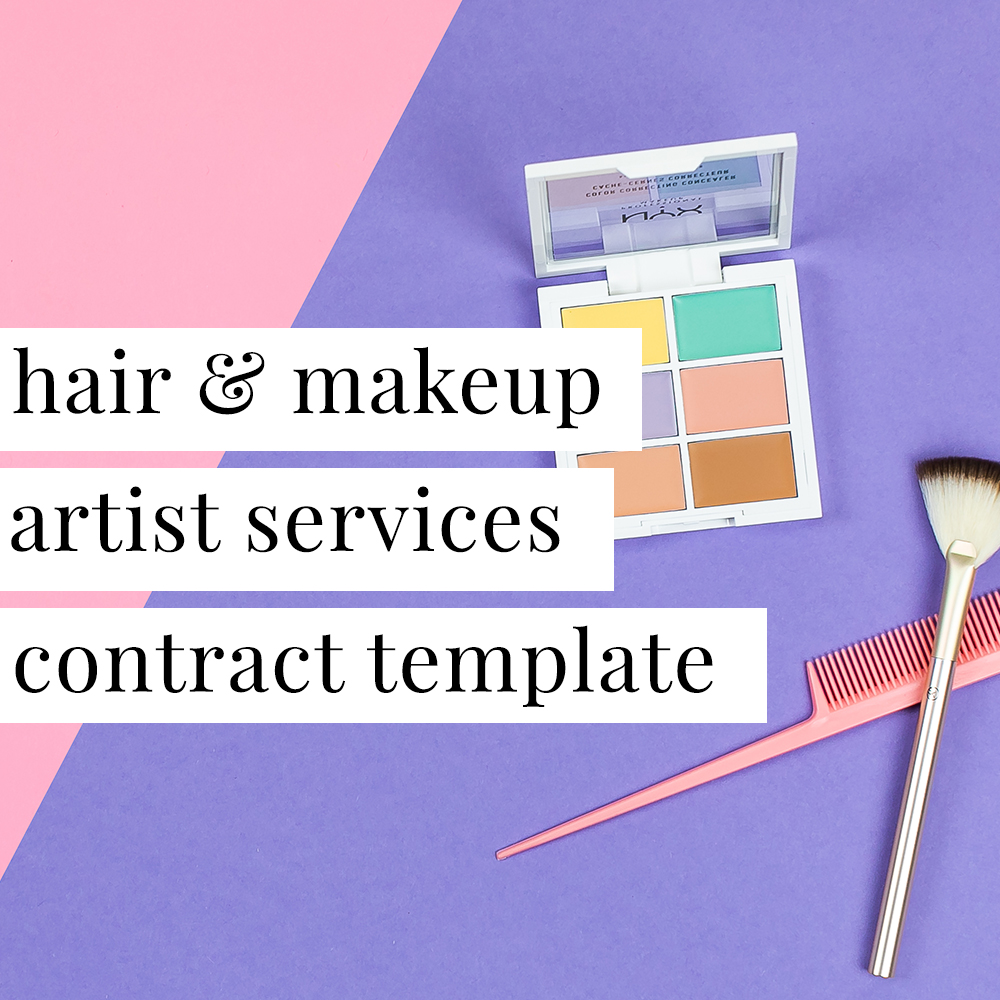 Hair and Makeup Artist Services Contract Template
$275
If you're a hair and/or makeup artist, put down your brushes and don't book your next job without this customizable contract template.
Whether you work by yourself, as part of a team, or manage a team of artists, this contract template is ideal for hair and/or makeup artists who are hired to provide professional hair and makeup services for events like weddings, photoshoots, conferences, etc.
It addresses a variety of important issues hair/makeup artists needs to have in client contracts, including:
The services the artist will perform for the client
How the artist will be compensated for services and any additional fees that may be charged to the client
What happens if the event gets rescheduled
The artist's expectations regarding a safe and healthy working environment
What happens if the artist is unable to personally perform services on the event date
What happens if the event date is unknown at the time of hiring the artist
Permission to use photos of the event for the artist's marketing purposes
Limiting the liability of the artist and the client
How the parties can terminate the contract
What happens if there is a dispute between the parties
And much more
I purchased another contract through another company first, and wasn't satisfied. Then, I came across a sale of yours and decided to give it a try. LOVE it. It covers EVERYTHING & more!! I feel safe, covered and like I have no worries for my business in regards to contracts.
Moriah, Photographer
I loved that your contract was specific to my industry, so I felt much more protected than purchasing a general contract for freelancers/online business owners. As for results, I feel much more confident going to a project with clients knowing I'm legally protected and I feel like I am taken more seriously. I would say to people who are considering purchasing this contract to just go for it. It's probably the most important thing to do before working with clients.
Lauren, Graphic and Web Designer
I just wanted to take a moment to thank you. I have a huge wedding I just booked, and went ahead and invested because I knew I needed to up my contract game. Turns out, Mother AND Father of the bride are high powered lawyers, and definitely scrutinized everything in a 45 min phone call. I was freaking out, but they said multiple times " You have a good lawyer" and "The contract is very thorough.
Cassandra, Event Planner
I always feel like I'm in good hands when I'm using Your Legal BFF's products. I feel protected and informed, just as any smart business woman should be!
Cynthia, Wedding Planner
I couldn't ask for a better customer experience. I went from anxious to relieved in a matter of hours!
Allison, Consultant