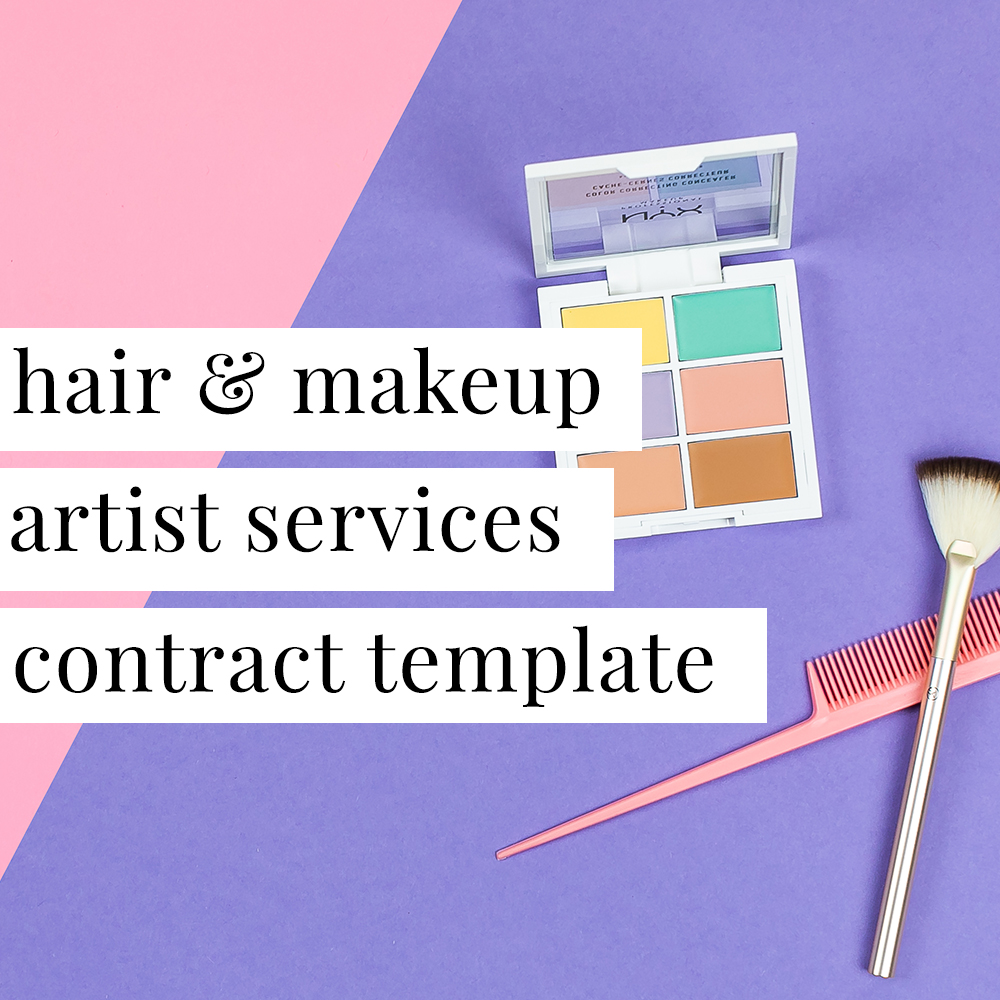 Hair and Makeup Artist Services Contract Template
$275
If you're a hair and/or makeup artist, put down your brushes and don't book your next job without this customizable contract template.
Whether you work by yourself, as part of a team, or manage a team of artists, this contract template is ideal for hair and/or makeup artists who are hired to provide professional hair and makeup services for events like weddings, photoshoots, conferences, etc.
It addresses a variety of important issues hair/makeup artists needs to have in client contracts, including:
The services the artist will perform for the client
How the artist will be compensated for services and any additional fees that may be charged to the client
What happens if the event gets rescheduled
The artist's expectations regarding a safe and healthy working environment
What happens if the artist is unable to personally perform services on the event date
What happens if the event date is unknown at the time of hiring the artist
Permission to use photos of the event for the artist's marketing purposes
Limiting the liability of the artist and the client
How the parties can terminate the contract
What happens if there is a dispute between the parties
And much more
I can't thank you enough.  A V.P. of Morgan Stanley has just signed my contract for wedding planning (for his daughter). He said that I need to congratulate my lawyer for writing such a well-balanced contract (which he signed without question).....My new contract is making it easier than ever to secure contracts which means more work than ever!!
Nikki, Wedding Planner
I bought both the marketing consultant contract and independent contractors contract! Super easy to understand and tweak for my business needs!
Ellen, Marketing Consultant
I always feel like I'm in good hands when I'm using Your Legal BFF's products. I feel protected and informed, just as any smart business woman should be!
Cynthia, Wedding Planner
The template has given me the confidence to book and deliver services knowing that I have properly CYA . I recently booked a client  ...  I don't think that I would have booked her with my previous contract.
Tiffany, Wedding Planner
I wanted to shout out a big THANK YOU for the webinar today on contracts! Way to kick my butt in to gear. I know I've been putting it on the back burner and stressing about finances (business related and personal life) but you made it a no-brainer with your package! I feel like I'm going to be well taken care of, and in turn can take care of my business and my clients as a result.
Sarah, Event Planner