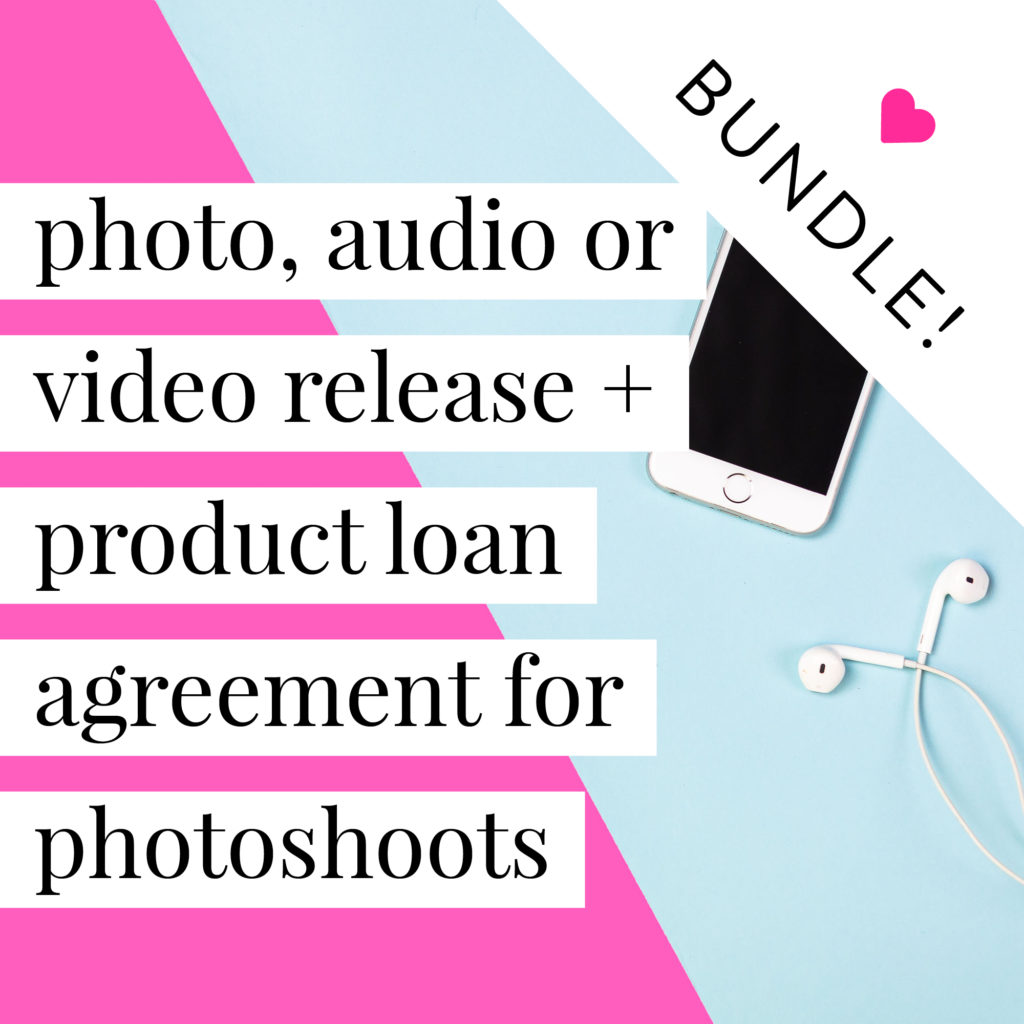 Photo, Audio or Video Release + Product Loan Agreement for Photoshoots Bundle
$75
Bundle and save over 10%!
With this bundle, you'll get the Photo, Audio or Video Release and Product Loan Agreement for Photoshoots at a discounted price.
The Details
What's Inside
Oh so great for
01 | PHOTO, AUDIO OR VIDEO RELEASE
Photographers, videographers, event planners, or other individuals who intend to photograph or record (audio or video) of an individual and use that material for commercial and business purposes will need a signed release. This release covers photography, audio recordings and video recordings and can be used for both adults and minors.
02 | PRODUCT LOAN AGREEMENT FOR PHOTOSHOOTS
Are you a photographer, videographer, stylist, event planner, product maker or someone who intends to loan out or borrow products for use in an upcoming photoshoot? If so, you will want to have a product loan agreement to outline each party's expectations and responsibilities. This contract template addresses:
What products will be provided;
who will pay for shipping the products back/forth;
Whether the Borrowing Party must pay a deposit or leave a credit card on file in the event Products are returned damaged or not returned;
What the Borrowing Party must give to the Loaning Party in exchange for loaning out the products how and when the products must be returned;
What happens when products are damaged;
And much more
We absolutely love how easy it is to use [these] contracts. They have  every contract we need so it's the first place we check before thinking about hiring a lawyer.  They also has a ton of great useful information which we find to be super helpful as entrepreneurs.
Jessica, Event Planner
I purchased one of the legal bundles last week when I heard I won a bid and wanted to move quickly. Today, I got the redlines from my customer's legal department. They had maybe three edits and one was a missing period. In my day/full time jobs, I deal with vendors and the items I submit to legal get a lot more than three redlines. I'm new in business and was hesitant to spend the money but knew enough to get over that mindset.
Lig, Event Planner
It was time for me to enlist more help to keep up with #allthethings in my business- I wanted to be sure to also protect my clients while I worked on scaling, so needed to get legal docs in place to do that.  There is SO much security in having a legal agreement- plus it's just the right thing to do. Nothing says I'm a legit business quite like an attorney drafted document.
Serena, Social Media Manager
The "Agreement for Design Services" contract provides everything a freelancer designer needs to provide a seamless job for a client. Without it, I would have been overused and taken advantage of by clients.
John, Co-founder of design studio
Loved the explainer included--this is what I wanted. No one has been able to explain in plain English what various terms mean.
Anonymous