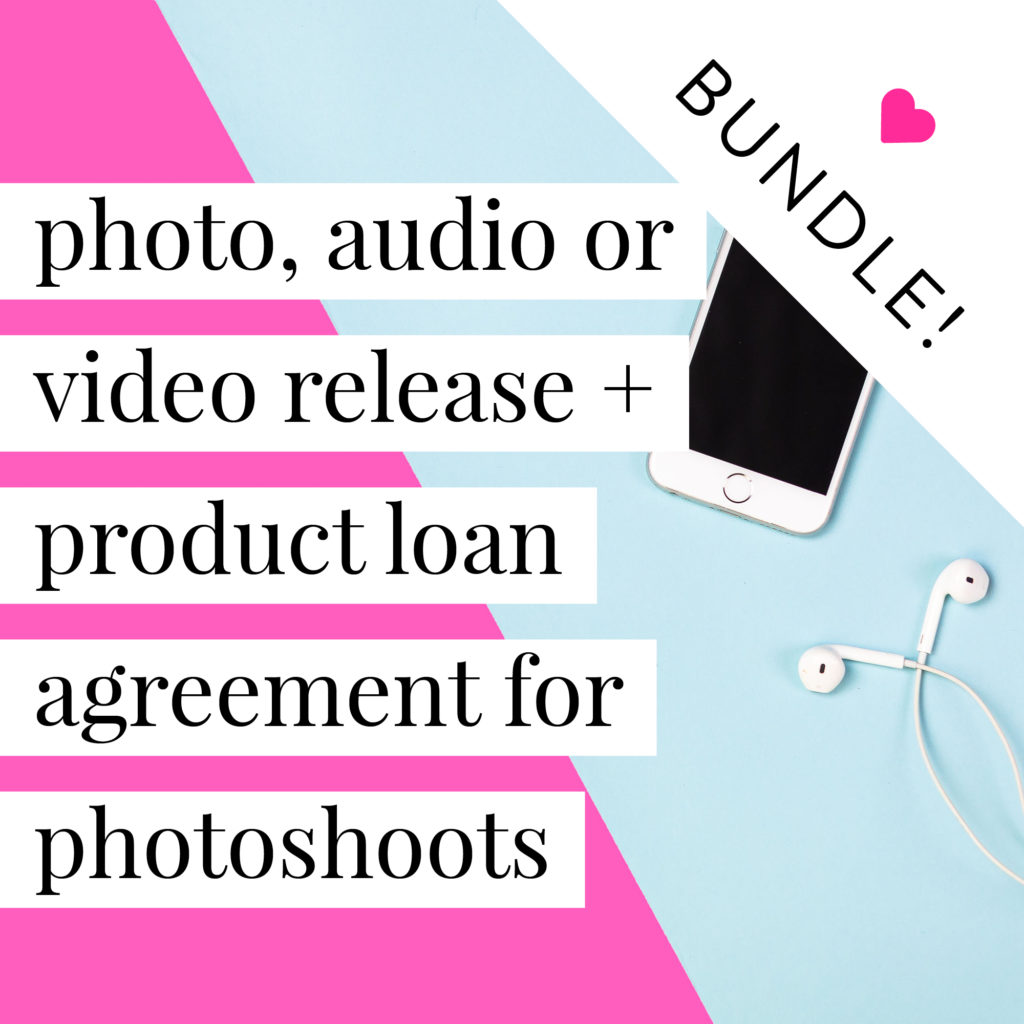 Photo, Audio or Video Release + Product Loan Agreement for Photoshoots Bundle
$75
Bundle and save over 10%!
With this bundle, you'll get the Photo, Audio or Video Release and Product Loan Agreement for Photoshoots at a discounted price.
01 | PHOTO, AUDIO OR VIDEO RELEASE
Photographers, videographers, event planners, or other individuals who intend to photograph or record (audio or video) of an individual and use that material for commercial and business purposes will need a signed release. This release covers photography, audio recordings and video recordings and can be used for both adults and minors.
02 | PRODUCT LOAN AGREEMENT FOR PHOTOSHOOTS
Are you a photographer, videographer, stylist, event planner, product maker or someone who intends to loan out or borrow products for use in an upcoming photoshoot? If so, you will want to have a product loan agreement to outline each party's expectations and responsibilities. This contract template addresses:
What products will be provided;
who will pay for shipping the products back/forth;
Whether the Borrowing Party must pay a deposit or leave a credit card on file in the event Products are returned damaged or not returned;
What the Borrowing Party must give to the Loaning Party in exchange for loaning out the products how and when the products must be returned;
What happens when products are damaged;
And much more
The template had everything I needed when I started (and as I've grown!) and they were a breeze to customize. The templates include tons of notes so you understand why each section is important and where you might want to consider your options. They take the fear out of contracts and makes it easy to cover yourself and your clients so you can get back to focusing on making a great product and providing amazing customer service.
Chelsea, Productivity Expert
I am in the processing of growing my team, taking on more clients with bigger and more involved weddings....I'm taking the necessary steps to ensure that my team and I are covered, even if it means investing more in Your Legal BFFs templates ahead of time. Better safe than sorry!
Katherine, Wedding Planner
I couldn't ask for a better customer experience. I went from anxious to relieved in a matter of hours!
Allison, Consultant
I did not want to pay an attorney hundreds/thousands of dollars to prepare a contract for me. I was happy that the template was so easy to use and that I was able to create a contract quickly. I have made minor modifications, but that agreement has already been used 16 times in the past 7 months!
Lynn, Wedding Planner
Loved the explainer included--this is what I wanted. No one has been able to explain in plain English what various terms mean.
Anonymous