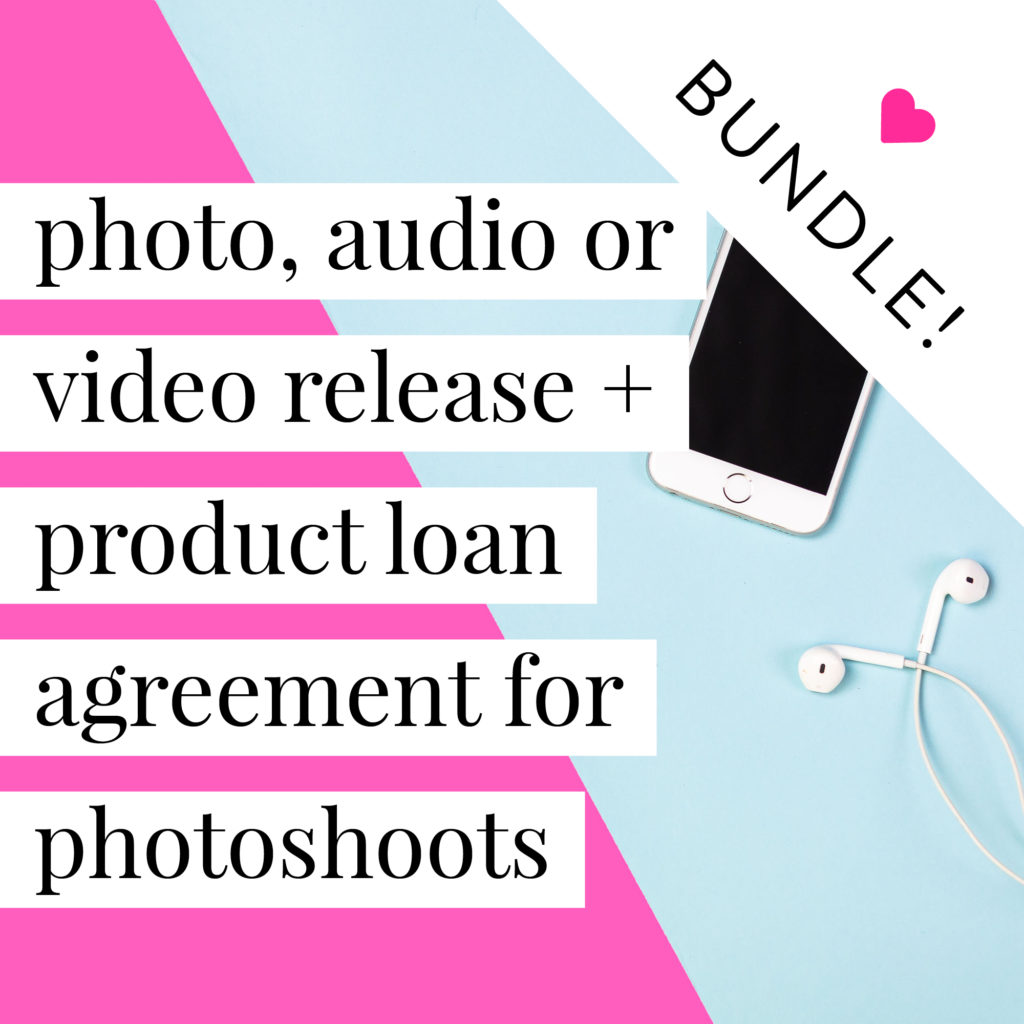 Photo, Audio or Video Release + Product Loan Agreement for Photoshoots Bundle
$75
Bundle and save over 10%!
With this bundle, you'll get the Photo, Audio or Video Release and Product Loan Agreement for Photoshoots at a discounted price.
01 | PHOTO, AUDIO OR VIDEO RELEASE
Photographers, videographers, event planners, or other individuals who intend to photograph or record (audio or video) of an individual and use that material for commercial and business purposes will need a signed release. This release covers photography, audio recordings and video recordings and can be used for both adults and minors.
02 | PRODUCT LOAN AGREEMENT FOR PHOTOSHOOTS
Are you a photographer, videographer, stylist, event planner, product maker or someone who intends to loan out or borrow products for use in an upcoming photoshoot? If so, you will want to have a product loan agreement to outline each party's expectations and responsibilities. This contract template addresses:
What products will be provided;
who will pay for shipping the products back/forth;
Whether the Borrowing Party must pay a deposit or leave a credit card on file in the event Products are returned damaged or not returned;
What the Borrowing Party must give to the Loaning Party in exchange for loaning out the products how and when the products must be returned;
What happens when products are damaged;
And much more
I started my business last year and have taken a handful of clients through word of mouth. I've been fortunate enough not to have any issues, but after completing my first large scale event under my company name, I knew it was time to 'go legit' and make sure my clients and I are both legally covered. It gives me peace of mind to know that I can clearly communicate responsibilities and liabilities to my clients.
Jessica, Event Planner
I wanted to start really taking myself and my design business seriously, and having a well-drafted contract is one way to go about doing that, but I had no idea where to even start. That is, until I discovered Annette and her amazing (and amazingly affordable) contracts! Now I have an agreement for design services contract that leaves me feeling confident and protected, and it's such a relief! Not only that, but every piece of the contract is explained in detail, so I know the ins and outs of what I'm sending to clients. No more anxiety!
Melissa, Designer
I decided to invest in [Your Legal BFFs] contracts because I knew that my copy and paste from the internet contracts were not up to snuff. I always had this pit in my stomach every time I booked a new client, hoping that they went call me out on my sub-par contracts. I didn't want to find myself in a bad legal situation so something had to change.
Tiffany, Wedding Planner
The template had everything I needed when I started (and as I've grown!) and they were a breeze to customize. The templates include tons of notes so you understand why each section is important and where you might want to consider your options. They take the fear out of contracts and makes it easy to cover yourself and your clients so you can get back to focusing on making a great product and providing amazing customer service.
Chelsea, Productivity Expert
I've been in business for a long time--too long to not have official, legal contracts. It was always on my list to do, but I just never took the time or made the investment to make it happen. Then a dreamy client asked for some changes to the project agreements I sent her, and I knew it was time to get official. I want to protect myself and my business, but even more so I want to make sure that my clients feel comfortable with the information and access they're giving me to their businesses.
Abby, Writer/Marketing Consultant