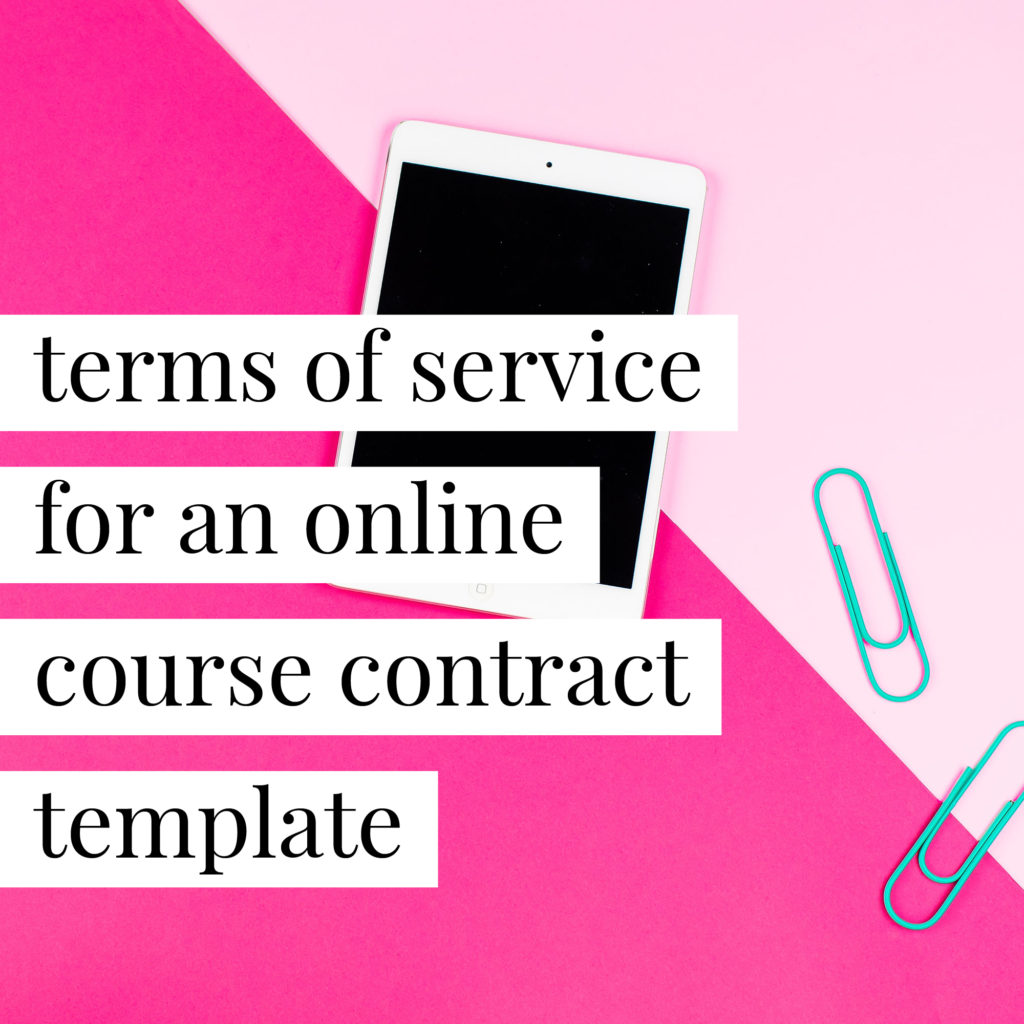 Terms of Service for an Online Course Contract Template
$275
The Terms of Service for an Online Course are for the online course creator.
This document addresses important issues online course creators need to have their students agree to before they are given access to their online courses, including:
Student access to the program

Account creation

Refund Policies

Disclaimers

Use of customer feedback

Who owns the Program content

And much more
The template had everything I needed when I started (and as I've grown!) and they were a breeze to customize. The templates include tons of notes so you understand why each section is important and where you might want to consider your options. They take the fear out of contracts and makes it easy to cover yourself and your clients so you can get back to focusing on making a great product and providing amazing customer service.
Chelsea, Productivity Expert
I loved that your contract was specific to my industry, so I felt much more protected than purchasing a general contract for freelancers/online business owners. As for results, I feel much more confident going to a project with clients knowing I'm legally protected and I feel like I am taken more seriously. I would say to people who are considering purchasing this contract to just go for it. It's probably the most important thing to do before working with clients.
Lauren, Graphic and Web Designer
I did not want to pay an attorney hundreds/thousands of dollars to prepare a contract for me. I was happy that the template was so easy to use and that I was able to create a contract quickly. I have made minor modifications, but that agreement has already been used 16 times in the past 7 months!
Lynn, Wedding Planner
We absolutely love how easy it is to use [these] contracts. They have  every contract we need so it's the first place we check before thinking about hiring a lawyer.  They also has a ton of great useful information which we find to be super helpful as entrepreneurs.
Jessica, Event Planner
I started my business last year and have taken a handful of clients through word of mouth. I've been fortunate enough not to have any issues, but after completing my first large scale event under my company name, I knew it was time to 'go legit' and make sure my clients and I are both legally covered. It gives me peace of mind to know that I can clearly communicate responsibilities and liabilities to my clients.
Jessica, Event Planner