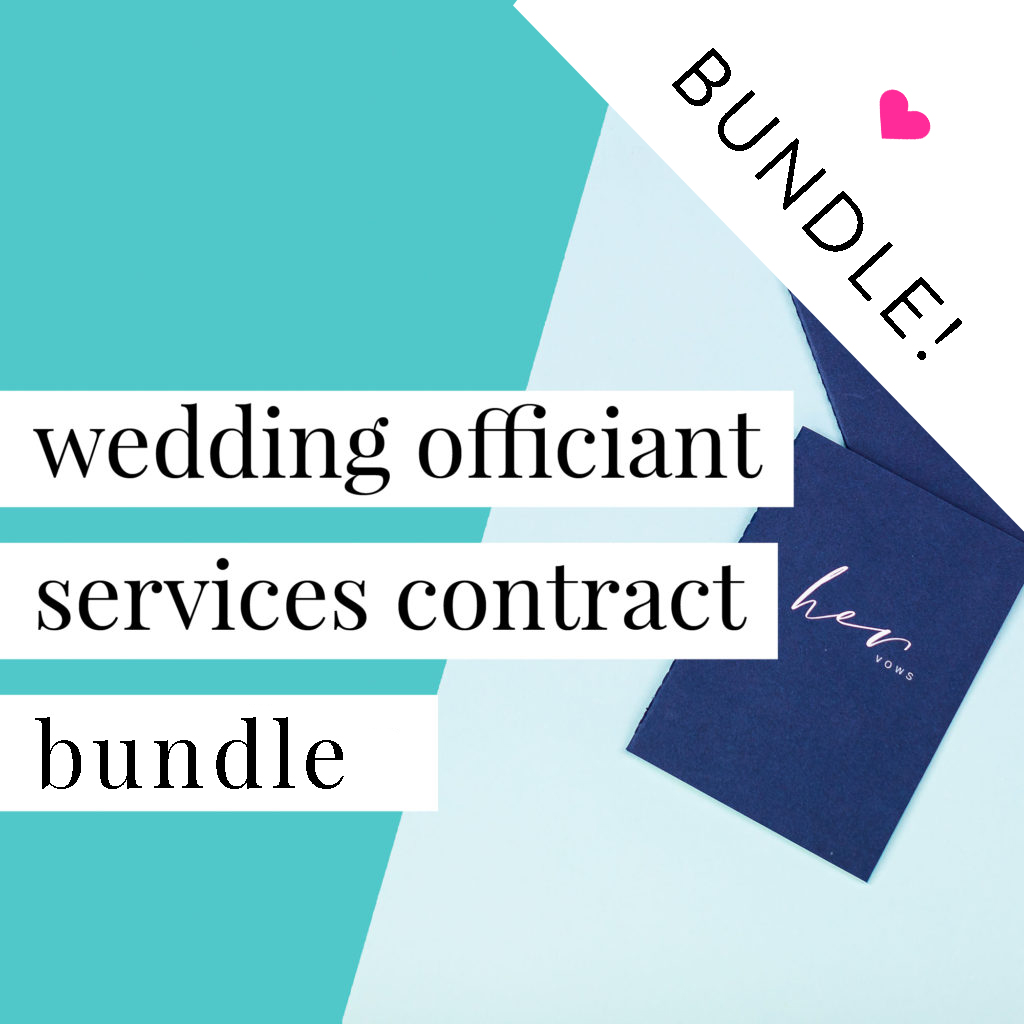 Wedding Officiant Services Contract Bundle
$799
Bundle and save $100!
With this bundle, you'll get the Wedding Officiant Services Contract Template, Independent Contractor Contract Template, and Website Terms of Service and Privacy Policy at a discounted price.
01 | WEDDING OFFICIANT SERVICES CONTRACT TEMPLATE
Before you officiate your next wedding, make sure your couples sign this customizable contract template for wedding officiant services. This contract template addresses a variety of important issues wedding officiants need to have in their client contracts for their services, including:
The services the officiant will perform for the client
How much the officiant will be compensated for their services
What expenses need to be reimbursed by the client
What happens if the client requests additional services
Client's responsibility to obtain marriage license
What happens if the wedding begins late or is delayed
What happens if the wedding is rescheduled
What happens if the wedding is cancelled
What the officiant expects from clients
Permission to use photos of the wedding for the officiant's marketing purposes
Limiting the liability of the planner and the client
How the parties can terminate the contract
What happens if there is a dispute between the parties
And much more
02 | INDEPENDENT CONTRACTOR CONTRACT TEMPLATE
If you hire independent contractors (as opposed to employees) to provide services in your business, then this customizable contract template is for you. This contract template addresses important issues that need to be included in contracts with independent contractors, including:
The services the independent contractor will perform for the client
How much the independent contractor will be compensated for their services
What expenses will be reimbursed by the client
Who owns the copyright to the work product created by the independent contractor
How confidential information will be treated
How the parties can terminate the contract
What happens if there is a dispute between the parties
And much more
03 | WEBSITE TERMS OF SERVICE / PRIVACY POLICY
If you collect information from your website visitors (think, email opt ins, credit card information, Facebook pixels, Google Analytics, etc.), you need to have a privacy policy on your website indicating what information is being collected from visitors and how it's being used.
Websites should also have a Terms of Service that outlines the terms and conditions under which a website visitor can use your website.
UPDATED FOR GDPR COMPLIANCE
Here's how it works:
01. organize
The contract drafting process is also a business planning tool. This video and accompanying worksheet will help organize your thoughts about how you want to run YOUR (not someone else's) unique business. A little time spent here will make completing the template itself easy breezy.
02. customize
This is where all the magic happens! Step-by-step video explanations (in Plain English - no legal mumbo jumbo here) will walk you through how to customize each clause of your BRAND NEW contract with confidence. So next time a client has questions about your contract, you'll impress them with your legal know-how. Then, revise your contract against the provided checklist to double check that you've crossed all your T's and dotted all your I's. Plus, the extra video trainings will demystify the questions popping up in your mind about whether to send proposals or contracts and how to make contract changes after it's already been signed (#lesigh, it happens to the best of us).
03. systemize
Want to save time, avoid costly contract errors, and book clients a whole lot faster? Then you've got to have a system in place. These video trainings will show you how to use some of our favorite contract signing softwares (even if you've never used one before) to make getting signed contracts back from your clients a whole lot easier.
Buy Now
I decided to invest in [Your Legal BFFs] contracts because I knew that my copy and paste from the internet contracts were not up to snuff. I always had this pit in my stomach every time I booked a new client, hoping that they went call me out on my sub-par contracts. I didn't want to find myself in a bad legal situation so something had to change.
Tiffany, Wedding Planner
The template had everything I needed when I started (and as I've grown!) and they were a breeze to customize. The templates include tons of notes so you understand why each section is important and where you might want to consider your options. They take the fear out of contracts and makes it easy to cover yourself and your clients so you can get back to focusing on making a great product and providing amazing customer service.
Chelsea, Productivity Expert
I wanted to shout out a big THANK YOU for the webinar today on contracts! Way to kick my butt in to gear. I know I've been putting it on the back burner and stressing about finances (business related and personal life) but you made it a no-brainer with your package! I feel like I'm going to be well taken care of, and in turn can take care of my business and my clients as a result.
Sarah, Event Planner
Loved the explainer included--this is what I wanted. No one has been able to explain in plain English what various terms mean.
Anonymous
So so easy to use and make sure my legal behind is covered! Contracts are just as important as making sales. Don't put this important task on the back burner...it's too critical to ignore!
Lauren, Marketing Consultant